If you haven't tried the MM Newman Hot Tools pyrography tool, read this review! You will see the features, pros, cons, and watch the tool in action as I create an art piece with their burner.

If you don't know what a solid point burner is, read this dandy little article here.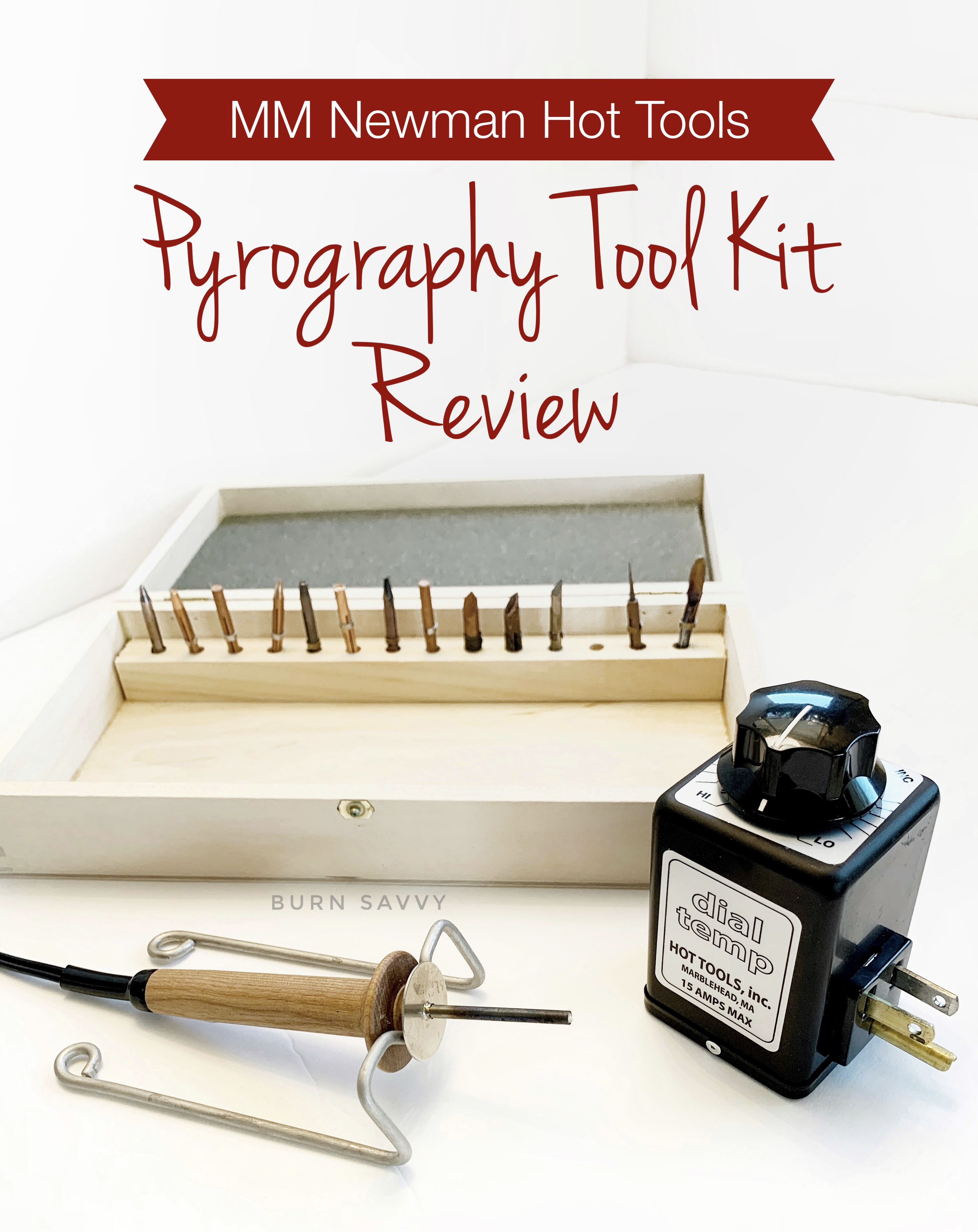 There are 5 main categories in every full page review:

Tool Features:
Kit Contents, Heat Control, etc.


My Experience:
What I Love


Downsides:
My Wish List of Changes


Tool in Action:
Ease of Use, Making an Art Piece



Overview:
Pros & Cons, Overall Rating, Who This is For
Just FYI, I was not paid for this review. The MM Newman corporation agreed to send me this burner in exchange for a professional, honest review... which is what I always give.
So let's dig into the tool!
What I love

First of all, the MM Newman Hot Tools pyrography tool kit is one *seriously* high quality solid point kit. You can feeeeeel the quality with every piece.
the Woodburning Tool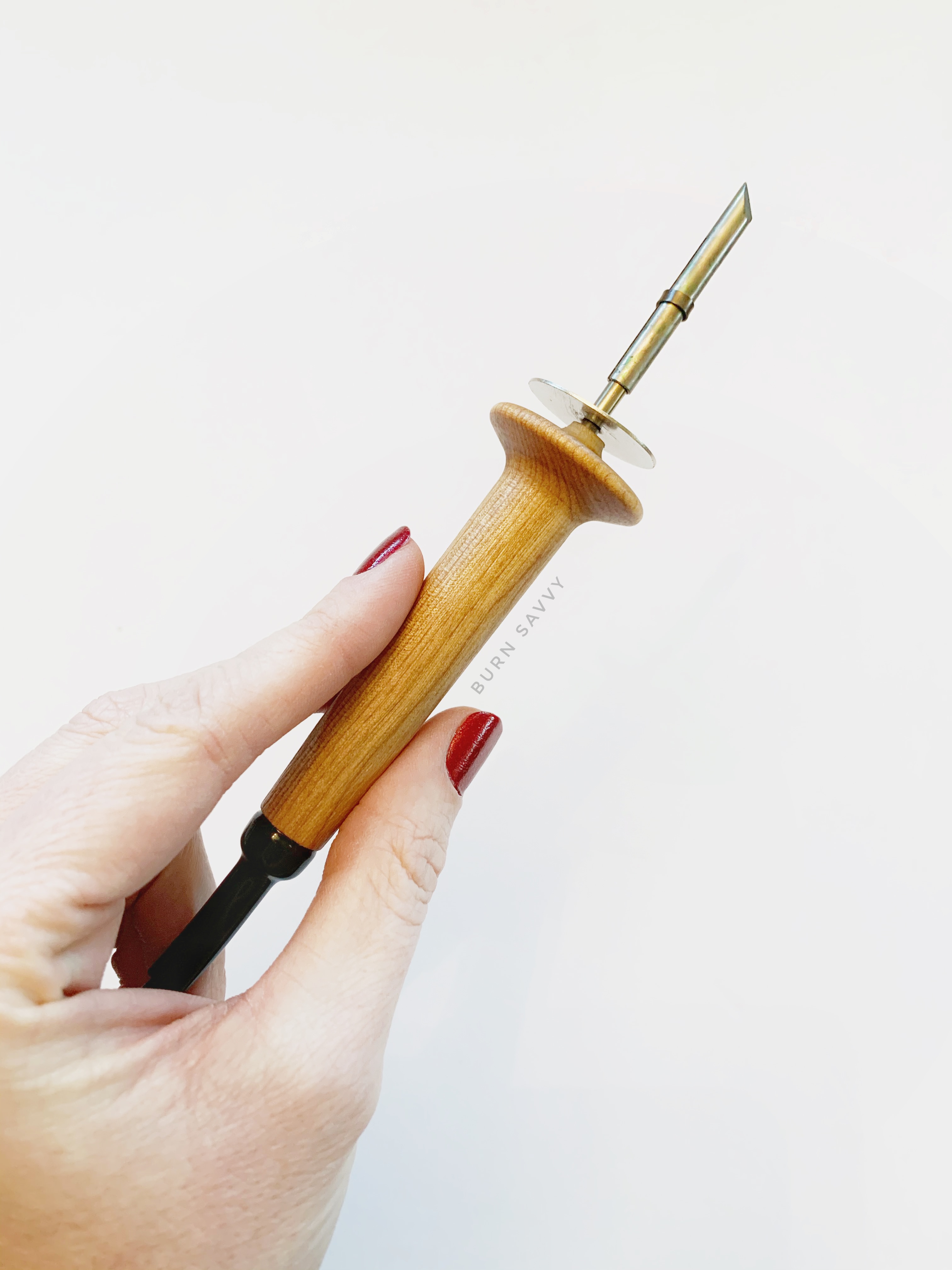 MM Newman Hot Tools Burner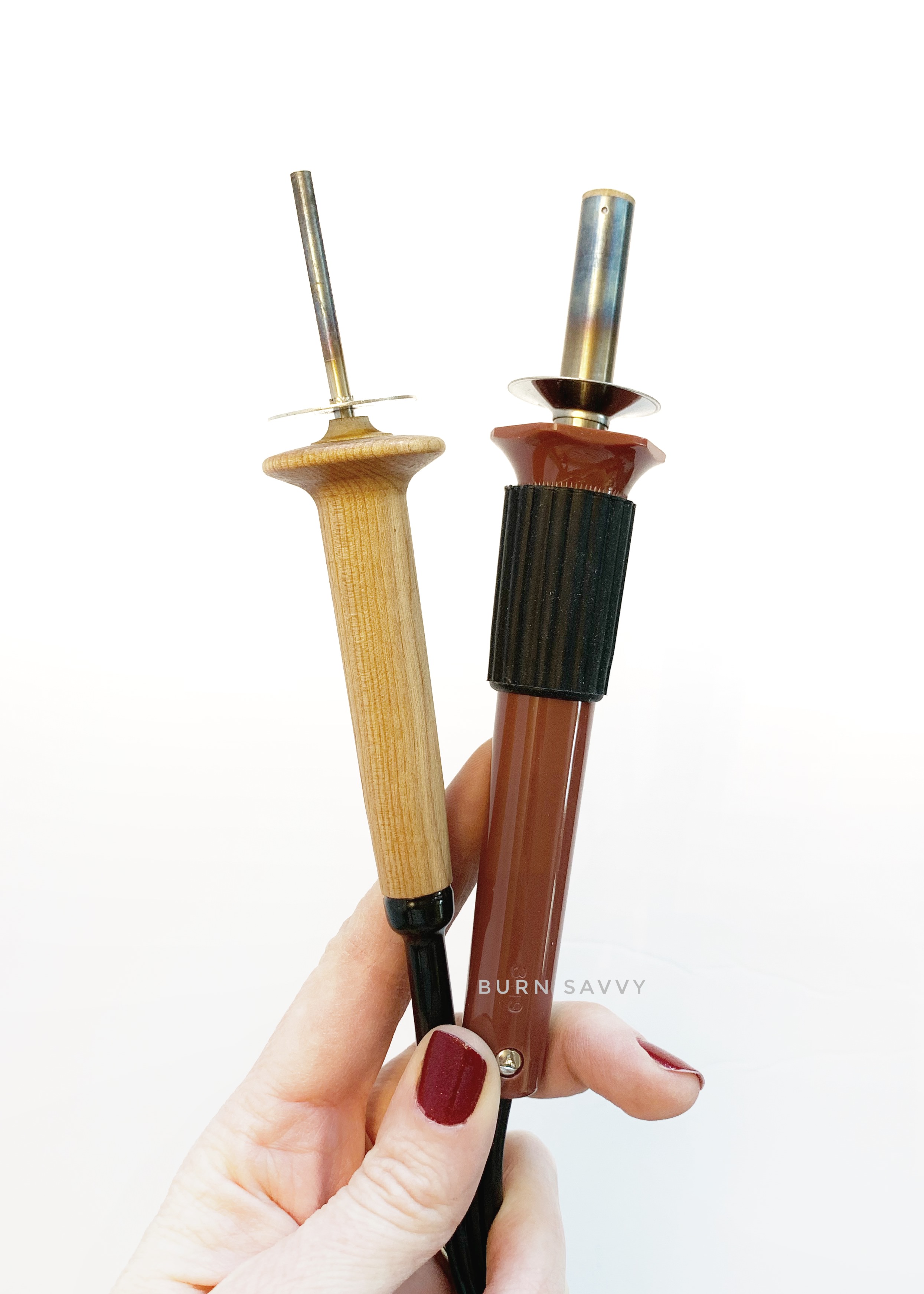 MM Newman Tool compared to other solid point tools
I was blown away by the MM Newman Hot Tools pyrography tool itself. I don't think I ever expected to be so delighted or surprised by a solid point tool - but here it is, killing it!
It's Ergonomic
The handle is much smaller than most other solid point burners and very easy to hold. In fact, it measures the same circumference as the cork handle on my wire nib pens!
Their Hot Tools pyrography tool is also very light weight - surprisingly lighter than my wire nib tools!!! That blew my mind.

The cord is thinner, less stiff, and easier to maneuver than other solid point tools. The cord is also long too. That's a huge plus when you're stuck to the wall. Longer cords expand your possible workspace.
High Heat

It gets hot. High heat allows for faster burning, and this Hot Tools pyrography tool gets up to 800°F.
It heats quickly! While it's not as fast as a wire nib burner, this is the fastest heating solid point burner I've ever used. I was burning decently dark after 1 minute and burning black after 2 minutes.
Yessss!!

Hot fingers are surprisingly not really an issue. This is the first burner I've seen that has a ceramic heating element right where the nib attaches! My fingers don't get hot unless I'm using a nib that forces me to hold the tool straight up and down.
Another amazing feature for sure.
It's Beautiful
This burner has a lovely wooden handle and a tiny barrel. It's not bulky or as awkward as it's brothers and sisters in the solid point realm are.
This petite little tool looks like it was made for artists, not for industrial work.
I know, I know. Looks aren't suuuuuuper important, but definitely a plus!
the Heat Controller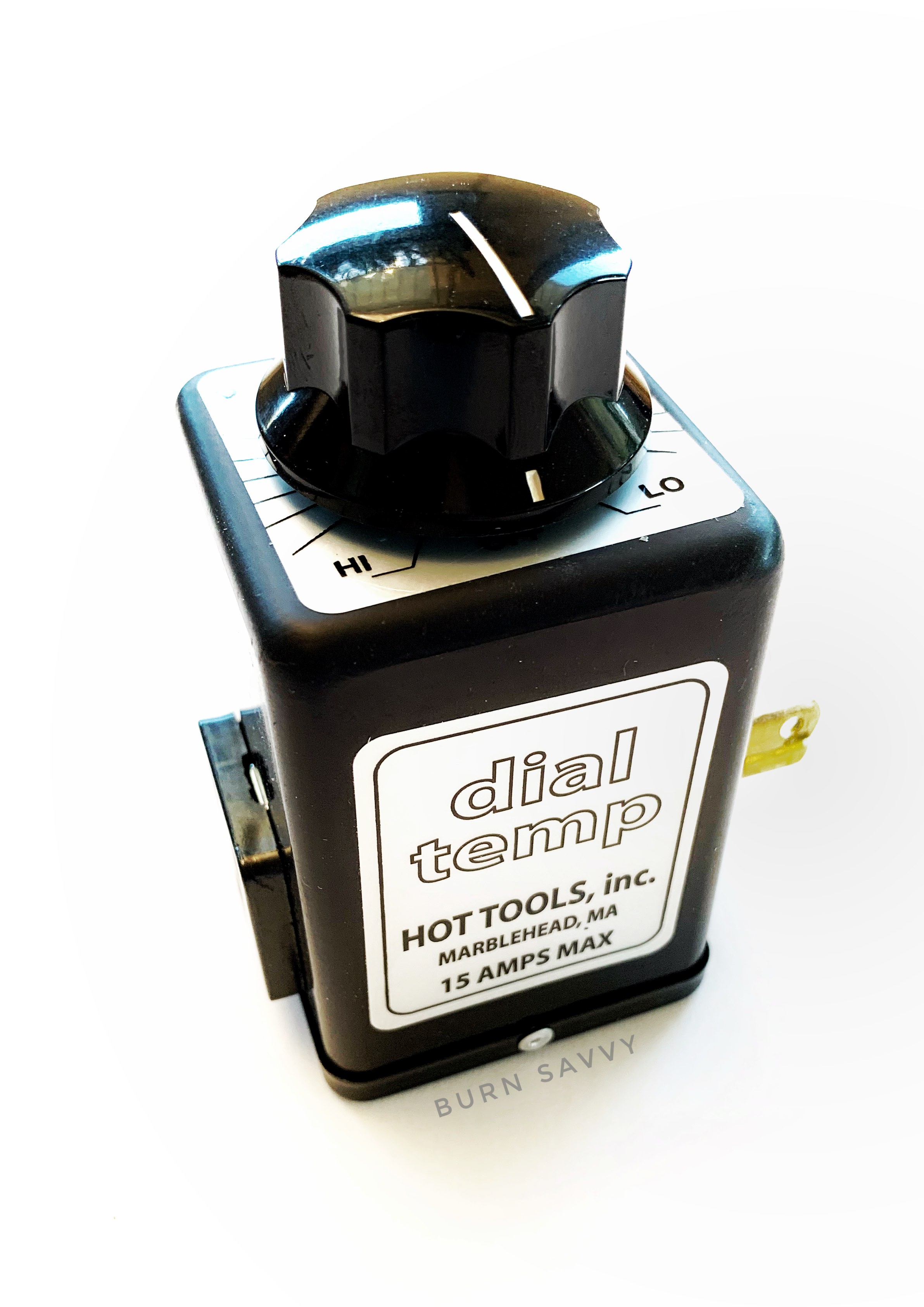 The burner does not have a heat controller built into the machine.
While that can cause some downsides - like you have to pay extra for that and store it - it also creates some pretty awesome upsides to, like...
Fine-Tuned Heat Control

Having a separate heat control (theirs is called a Dial Temp) means that the controller isn't weighing down or bulking up your cord or handle.
It keeps those things light and easy to maneuver - which is soooo important, especially if you burn a lot or for long periods of time.

Their Dial Temp also really high quality. While most heat controllers can only handle 25 watts, this baby can handle a whopping 1500 watts!!!
The heat level is also extremely even and reliable. Like the burner, you can feeeel the quality as you use the Dial Temp.
the Stand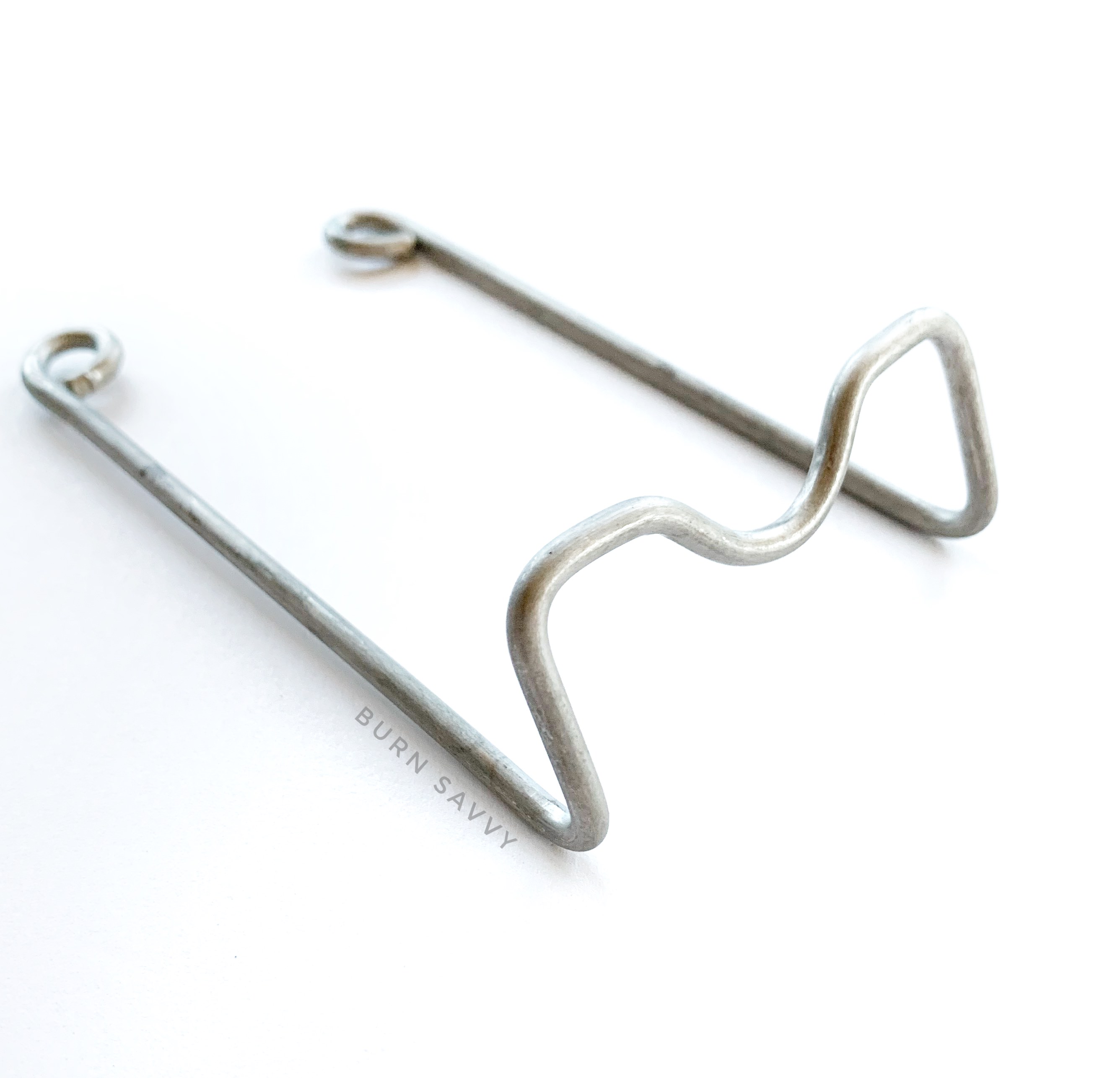 This stand is the most substantial stand I've seen for a solid point.
Great Quality

The wire is incredibly sturdy.

It doesn't fold down and I love that.

It isn't too small and I love that.
The burner rests very snugly against the stand - so I'm not nervous about knocking my burner off the stand when I bump the burner's cord (my carpet thanks MM Newman for that!).
the Nibs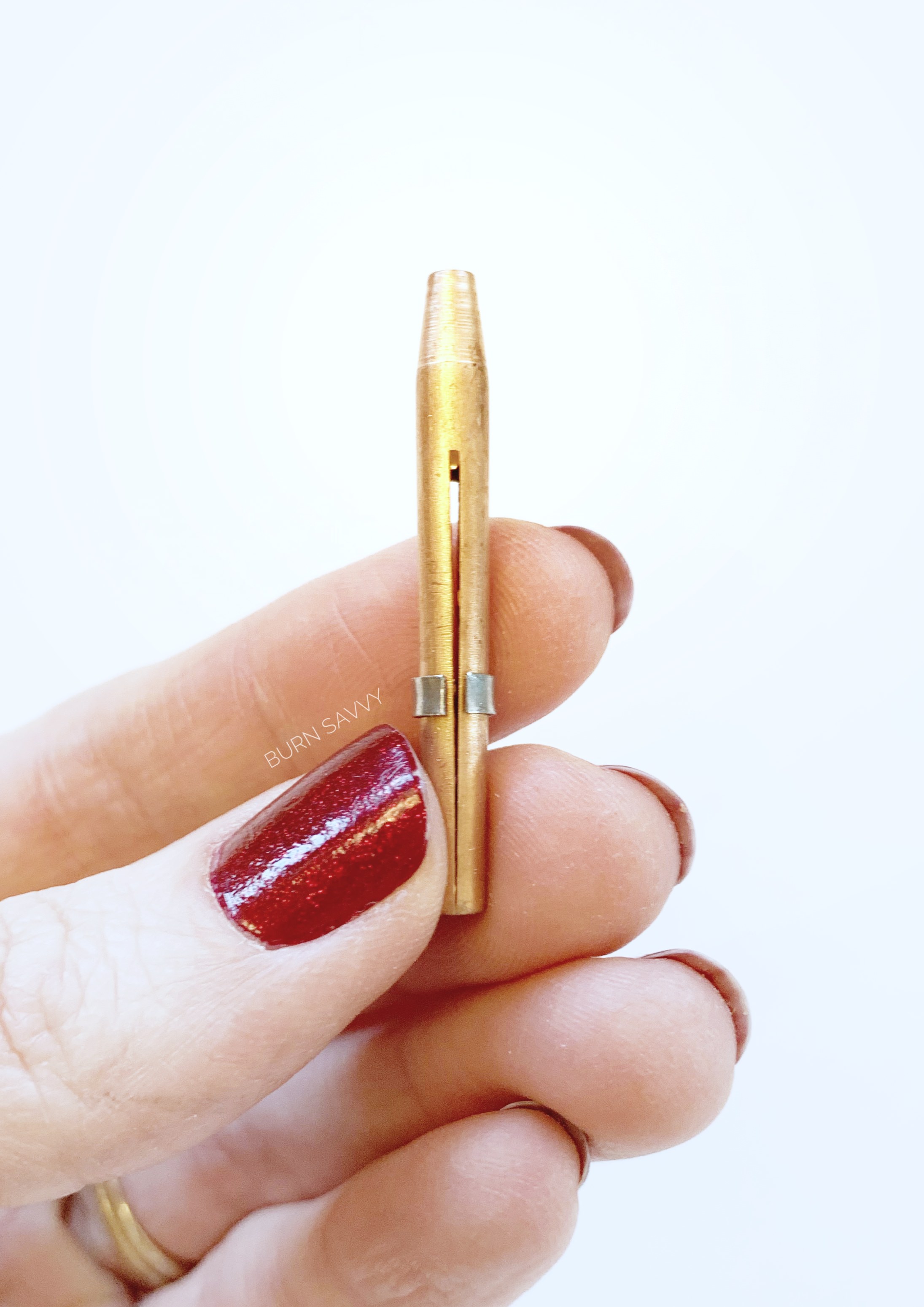 The nibs are interesting. They don't attach like any other solid point nibs I've ever seen.
They slide on.
To tighten or loosen it, you simply move the metal ring up or down on the shaft of the nib.
Nice Selection and Additions

Again, these are quality nibs.
You get 13 different options in the kit. Plus, you can get other nib options if you want to do things like fix a scratched lacquered finish, make your own stencils, or try your hand at foil transferring and hot tacking.

the Wooden Case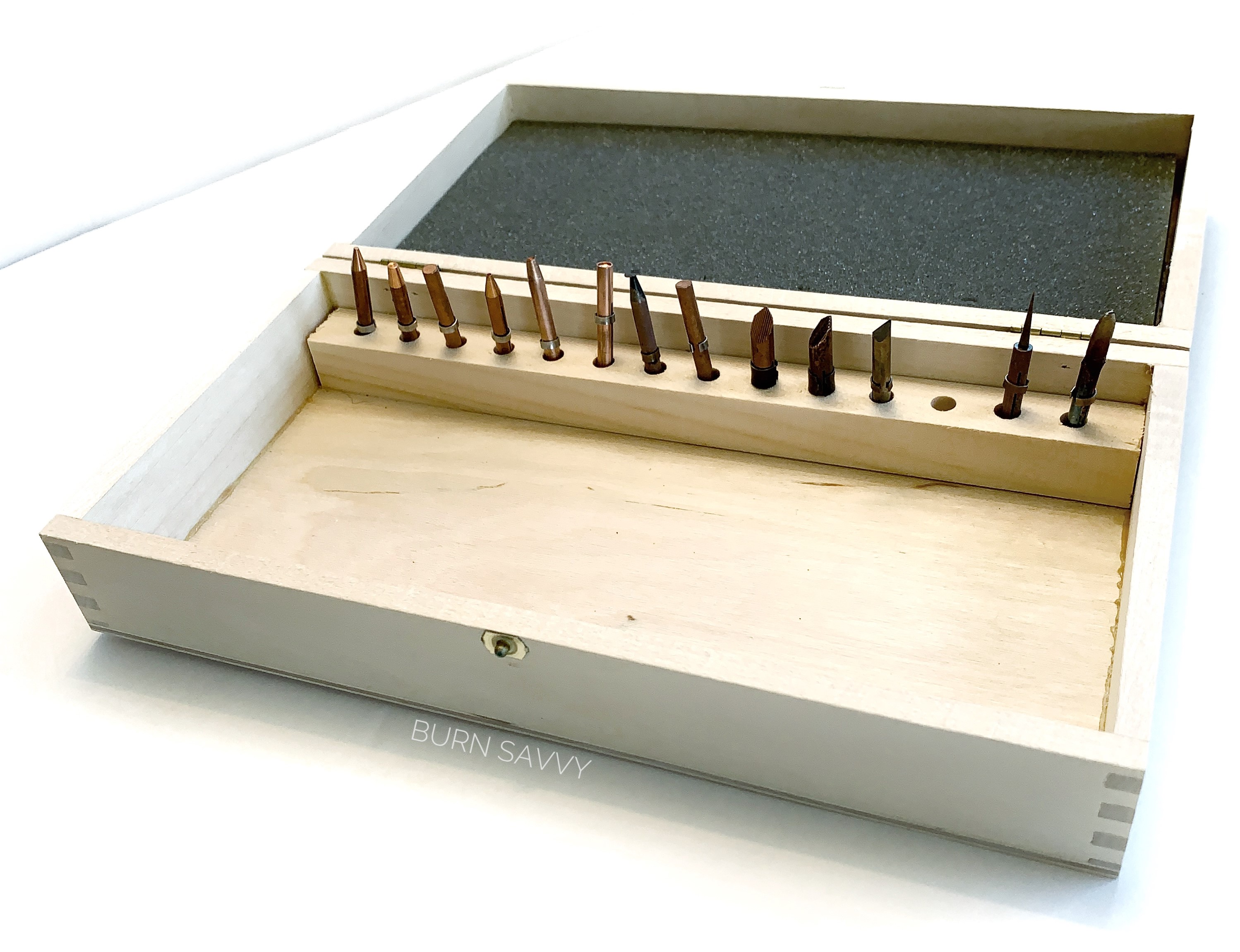 This case is ideal for woodburning artists to store their tools.
You need to understand - I have been searching for a case JUST like this for ages! I've considered making my own, but now I won't have to!
Perfect Nib Storage
This is one of the biggest draws for me. You have a home for each individual nib (it actually has an extra slot).
Plus, it's easy to see all the nibs at a glance!

Tool Protection

Not only is it the perfect size to comfortably fit your burner, stand, and nibs, but it includes quality foam padding along the top to protect it against bumping and jostling.
Quality Built
Par for the course with this company - once again their workmanship sets the bar. They use a quality box joint on the case corners (not the mitered butt joint so many box makers use). It comes already sanded. The hinges move like a dream.
Did I mention I love this case? I LOVE this case!
It's Basswood
That means it is delicious wood to burn your own design on.
I've always wondered why all the woodburning cases were a boring plastic or metal. How cool would it be to decorate your burning case using the burner that it carries?
Now we can!
Downsides
There's not much to complain about with the MM Newman Hot Tools pyrography tool kit!
While wire nib burners are still faster at heating and cooling and you can scoot your fingers closer to the point of the nib, this tool has masterfully shown it can give the wire nib world solid competition on ergonomics and beauty.
But if I could make any changes, this would be my list.

The Woodburning Tool & Heat Control

I wish that there was built in heat control OR that the dial temp had a cord so I could plug it into the wall and still keep the dial temp on the table where it's easy to switch the heat. Being plugged into the wall also makes it hard to see what heat level I'm using.
Plugging it into a power strip helped, but it was still hard to see the heat level when plugged in.
Switching Nibs

You have to be careful to switch the nibs. It needs to happen while it's cool (after 2-3 minutes I could switch it wearing leather work gloves).
Switching nibs while they are hot means you have to use pliers to move the ring - and that's dangerous. You don't want to risk breaking the ceramic heating element that they slide onto!
A couple nibs didn't want to tighten down at first - they would slide off while I was burning (yikes!). But tightening the wire ring around the nibs before sliding the nibs onto the tool solved that.
Wooden Case

A couple nibs were too long to fit in the holes - they actually kept the box from closing. I grabbed a drill and very carefully drilled 2 of the holes deeper without going through the bottom. Now it closes perfectly! But I wish the holes were already deeper for those longer nibs.
I also wish the Dial Temp fit inside the wooden case. Everything else does.

If I'm being really picky, I think it would be nice to have some foam or felt along the inside bottom of the case too for more protection of the tool.

Price

This kit is high priced for a solid point burner, but it is also far superior to other solid point burners. You get what you pay for right?