Top 10 Safety Pyrography Tips & Tricks

Pyrography tips for how to burn safely were not easy to find when I started out. So I've put them all in one sweetened condensed spot just for you.

Because hey - we're burning. It's suuuper easy to damage ourselves.
But let's not, okay?
Keep scrolling to read the full list...
...AND you can watch this awesome little YouTube video also explaining all these pyrography tips on safety.

⇢ Want a Woodburning Project Delivered to Your Door Every Month?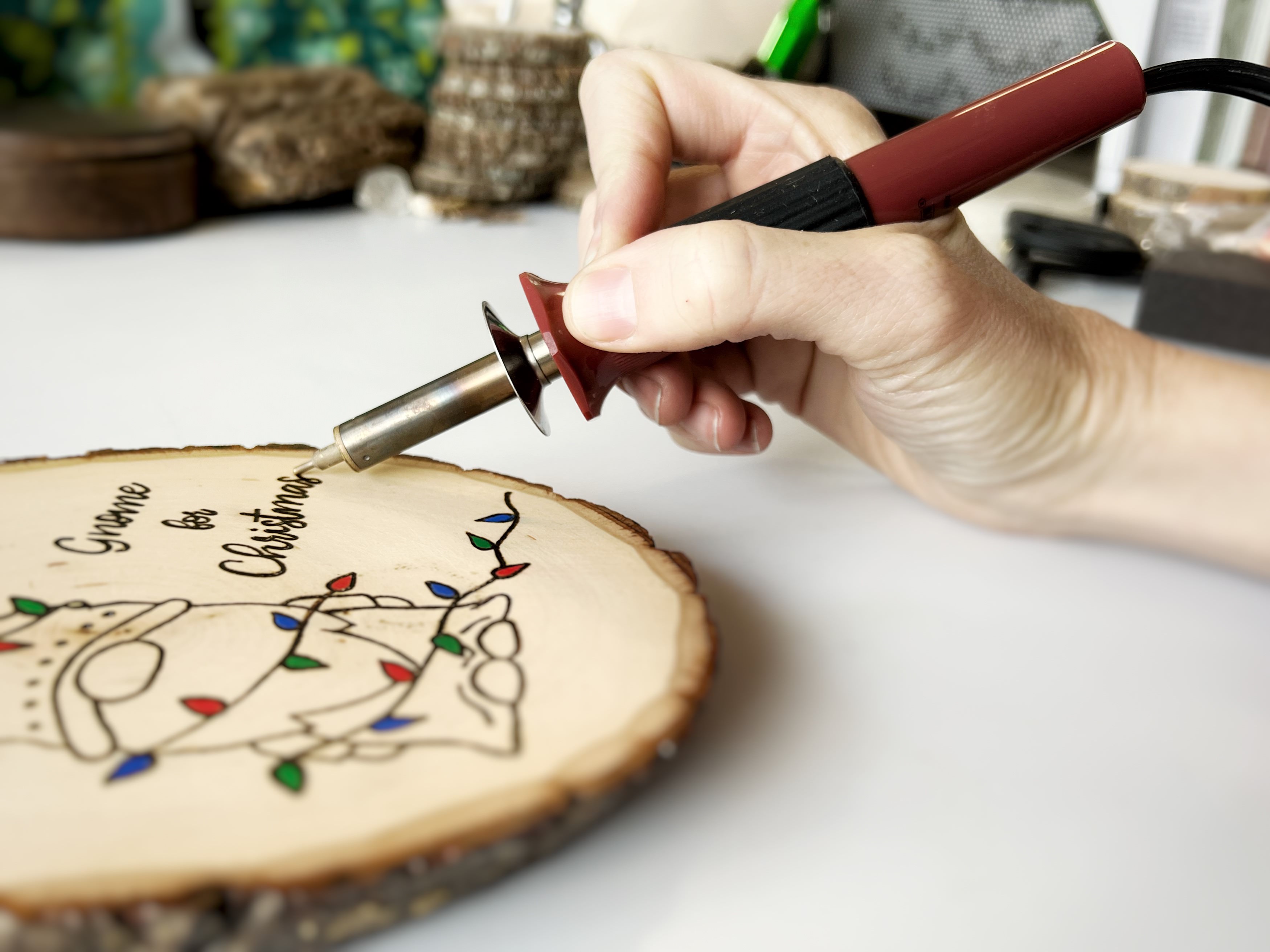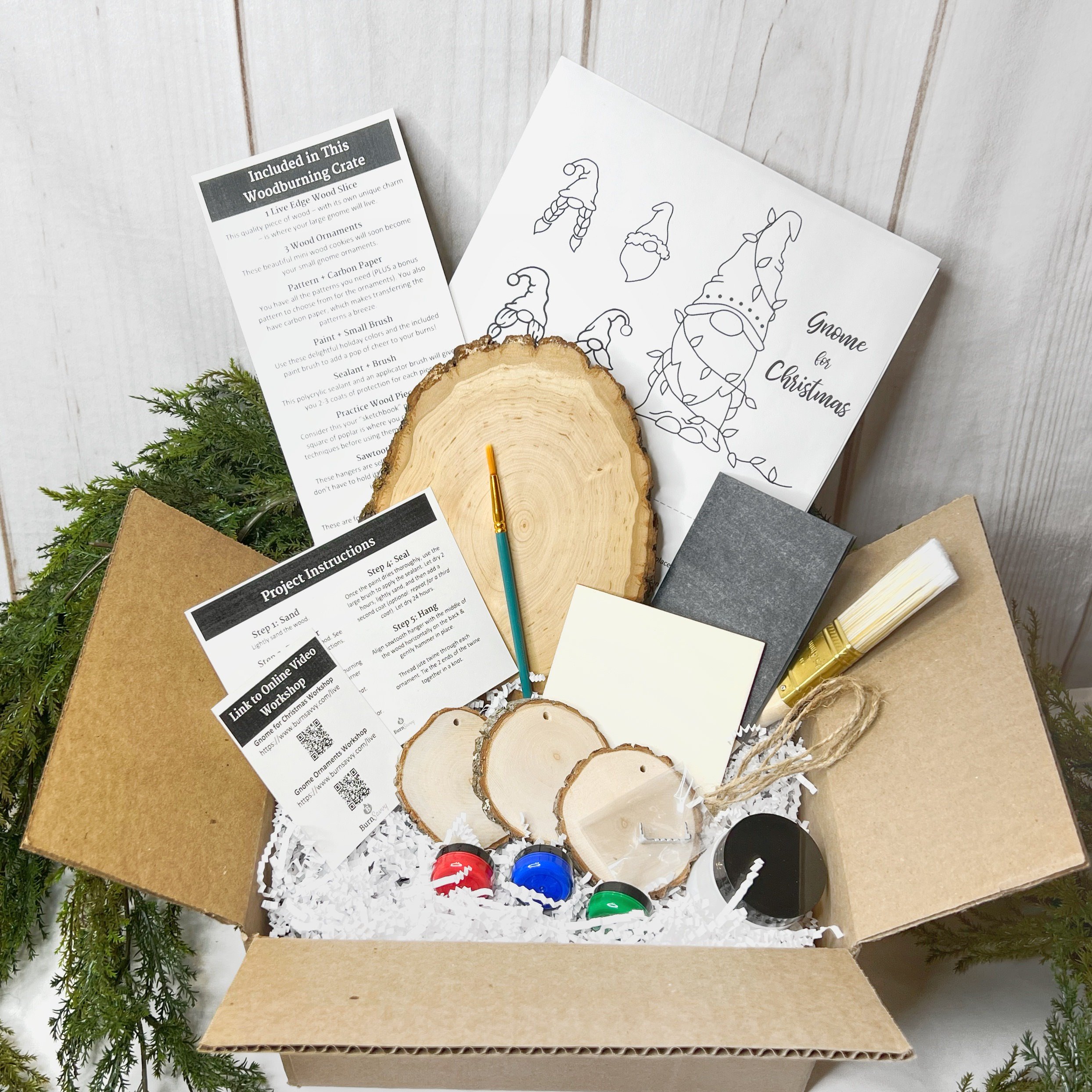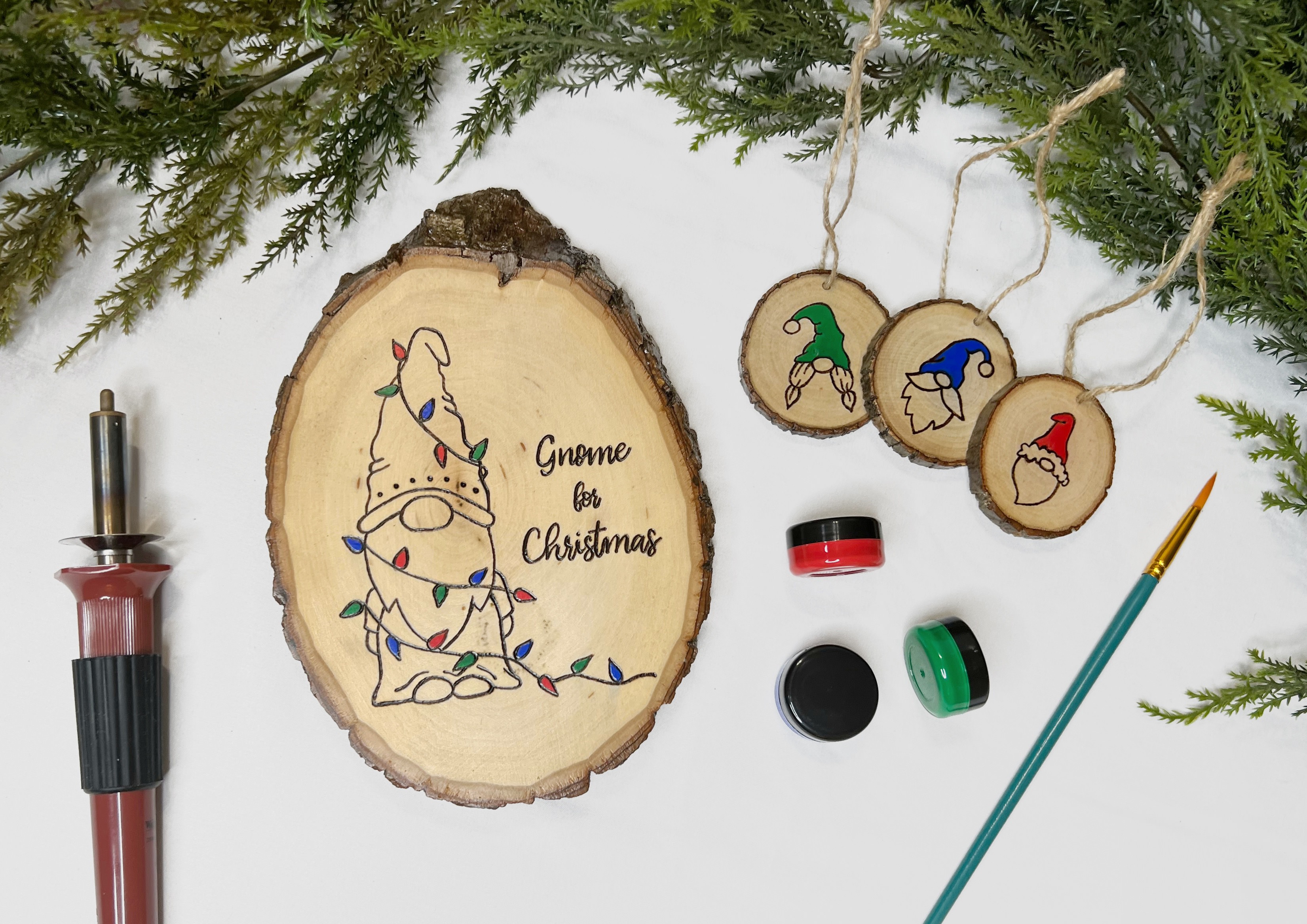 ⇣ Get high quality, curated woodburning projects worthy of a professional pyrographer, easy enough for a beginner! Each month is a different project to allow you to grow your techniques, expand your experience, and try new things that otherwise you might not have ever tried.
Perfect for gifting to friends, family, and even yourself. ;)
Go ahead. You're worth it.
⇣⇣⇣
1. Do NOT touch the metal when the machine is on!

This might seem like a no-brainer, but you'd be surprised how many people do this.
Why would they do that??
2 main reasons.

Sometimes it's hard to tell if a solid-point burner is on or hot enough to burn.

So when you want to see if it's hot, the natural response is to touch it lightly.
*Ahem.* Don't.
Try hovering your hand a couple inches above the metal to feel if there's any heat rising from it.
Better yet, place the tip against a scrap piece of wood for a couple seconds to see if it starts to burn.
Another reason people touch it is because their fingers like to creep up toward the tip while they burn.
That' natural. We all want to hold it more like a pencil or pen.
But keep those pretty fingers on the plastic, cork, rubber, or whatever is there. Get a pair of gloves or finger guards if you have a hard time [like me] keeping those itchy fingers from overstepping their bounds.
Lets keep those lovely digits away from the blistering hot metal.
2. Keep your burner away from flammable stuff

It's easy to overcrowd your desk.
Or accidentally set your paper pyrography patterns or burning plans too close to your burner.
Or melt things you didn't realize were too close.

I've had students in my woodburning workshops reach over the top of their hot pyrography tips and wind up with a cute new thumb hole in their sleeve.
Lame.

Keep clear of that hot machine.
3. Tie back loose hanging anythings - like hair, jewelry & headphones

Ask me how I know.
Ask me how it smells.
Ask me how sad I was after the fact.
[fail face] :(
4. Work on a hard, sturdy surface
Like a table or a desk.

No need to burn holes in the couch. Or your leg.
5. Secure the stand to the table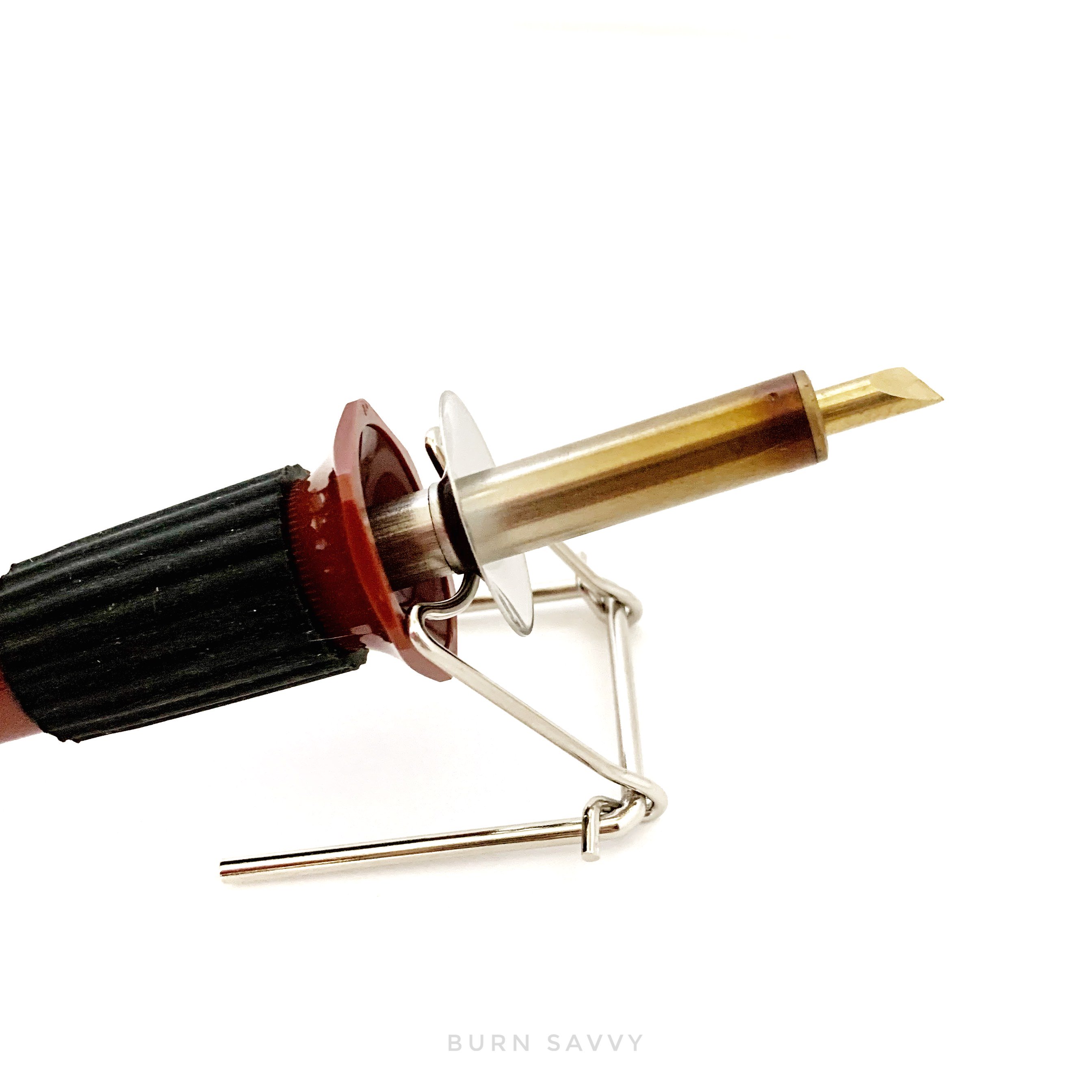 Solid-Point Stand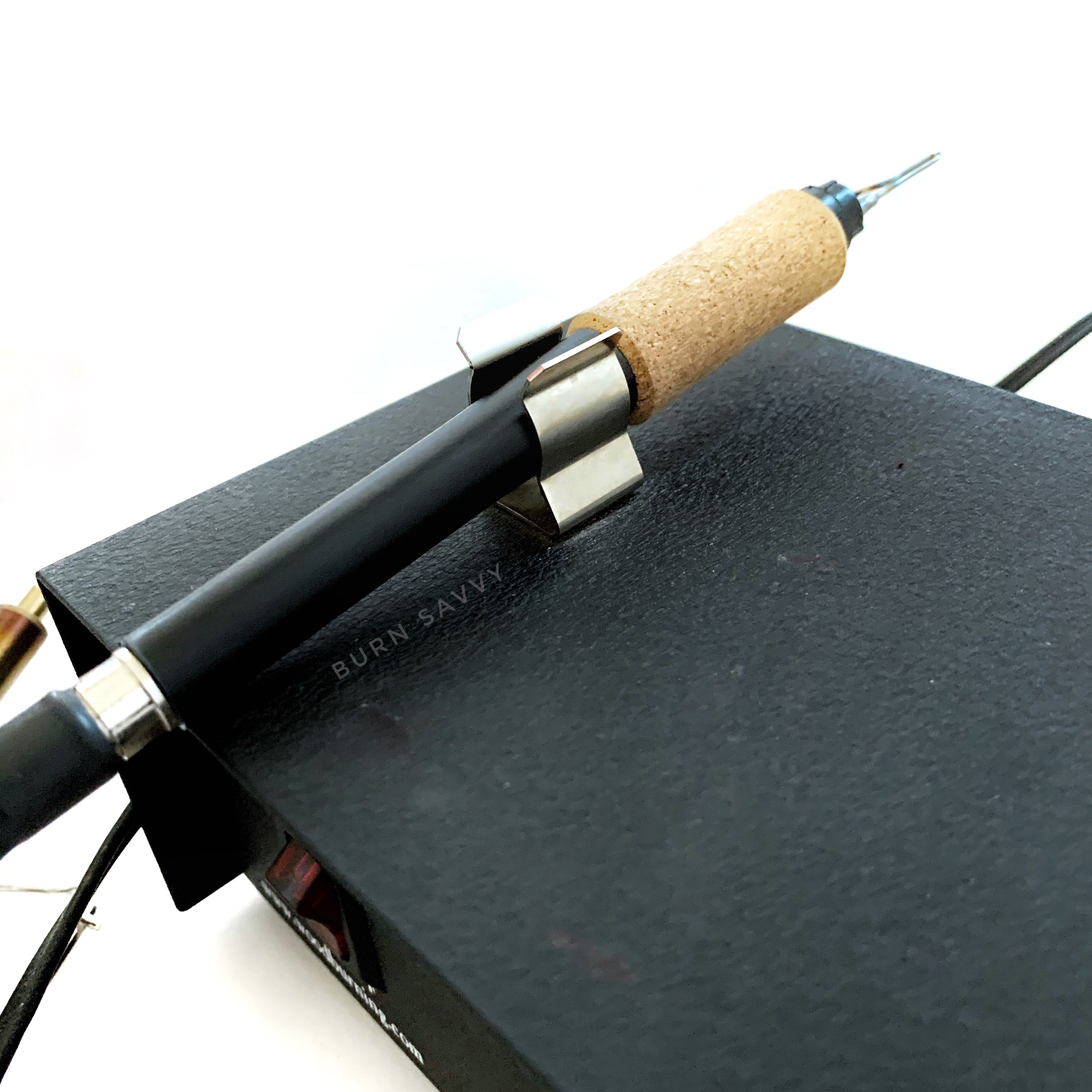 Wire-Nib Stand
Don't put holes in the carpet either.
You don't typically have to worry about this with the wire-nib burners.
But the solid-point burners usually have a lightweight metal stand that just sits loosely on your desk. When you put your tool down on the stand, the weight of the pen makes the stand slip right off the table.
So tape it down.
Attach it to a weight - like larger piece of wood.

Do *something* to keep that stand from sliding around on your desk.
6. Always rest your pyrography pen on the stand when not in use
Don't and you'll be sorry. Bump that cord once and those pretty pants you were wearing will have a fresh new breathing hole for your knee.
7. Turn your burner off when you leave the table
"I'll only be gone for a minute."
Famous last words.

It's as dangerous as leaving a stove on when you're not home. Don't let it cook alone, wasting electricity, and possibly waiting to burn the house down.

Turn it off.
And if you have to leave the room, unplug it for extra measure.
8. Use metal pliers to remove or insert pyrography tips into a hot burner
Wire-nib burners with replaceable tips usually come with tweezers built for this purpose. Simply turn the machine off and gently pull the tip out and place the tip in a heat safe dish.
Wire-nibs with screw on pyrography tips don't need pliers or tweezers since you use a screwdriver to insert or remove tips.

The pliers are for solid-point burners.

Do this gently.
Hot tips bend easily. Carefully untwist the tip from the barrel of the burner, then place your tip in a heat-safe dish.

Put the new cool tip in by hand to start, then use the pliers to carefully but quickly tighten your tip into place.

P.S. Cool tips heat up quickly when the burner is already cooking. If the burner is hot while you're switching tips, your cool tip will heat up in seconds and get too hot to reinsert by hand. Use the pliers or a pair of leather gloves to re-insert that tip if you need to.
*Important little side note*
If your pyrography tips resist going into the barrel, STOP.
You might crossthread your machine which totally ruin it.
Back the tip out and try again.
9. Only burn on dry, well-seasoned, non-toxic, non-treated wood

Was that wordy enough?
If not, you can read all about the worst wood for pyrography right here.
When you're burning things other than wood - like fabric, bone, cork, blah blah blah - make sure those things are free of any chemicals, treatments, glues, stains, finishes... all that nonsense.
10. Teach kids safety around pyrography tools. Keep hot tools out of their reach.
Got kids? Grandkids? A girlfriend or boyfriend with kids?
They'll find your stuff.
I was babysitting my friend's children and they found my home studio within the first few minutes. Thankfully, I was right there and could tell them to stay out because it's a dangerous room (which is true... I play with gunpowder you know...).
My kids know the rules about burners and my tools. But these visiting kids don't.
That's one reason I always unplug my burner when I'm leaving my studio. One more safety guard to keep kids from turning it on.

Keep those kids away from your pyrography tips and burners.
Want to see my safety tools & gear?

Read all about it in this handy dandy article right over here.

I made you a FREE woodburning safety PDF that you can get right now.

⇣Download that baby here⇣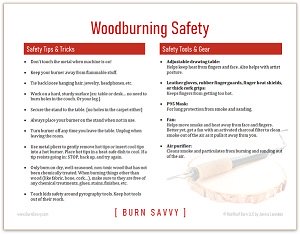 Want to seriously up your pyrography game?

I'm spilling my pyrography secrets. Don't miss out on...
Your FREE guide to woodburning tips & their uses

Helpful tips, hacks & articles
First dibs on upcoming courses

Notice of retreats, challenges, and other pyrography events

and so much more coming!
So go ahead. Subscribe. Consume. Enjoy.
You deserve it.
---
⇣ Enjoying your FREE pyrography tips & techinques? ⇣

Are you enjoying the free pyrography tips & techniques I share with you here and on YouTube?
I am delighted to help you out!
If you are a giving person - and I believe you are - there are a few really simple ways that you can give back.

Things like...

Watch my YouTube videos (that's totally FREE for you)


Buy your woodburning products through my affiliate links which throw me a dime or two at no extra cost to you (read about affiliate links here).


Take the pyrography courses that I've poured my heart and soul into helping you burn like a boss!


Join in the woodburning retreats - that's really like giving back to yourself, actually. ;)

I truly appreciate givers like you who are willing to help me - your fellow pyro - to keep making free, delightful woodburning content for you and pyros like you.
Thanks for always being so supportive of me!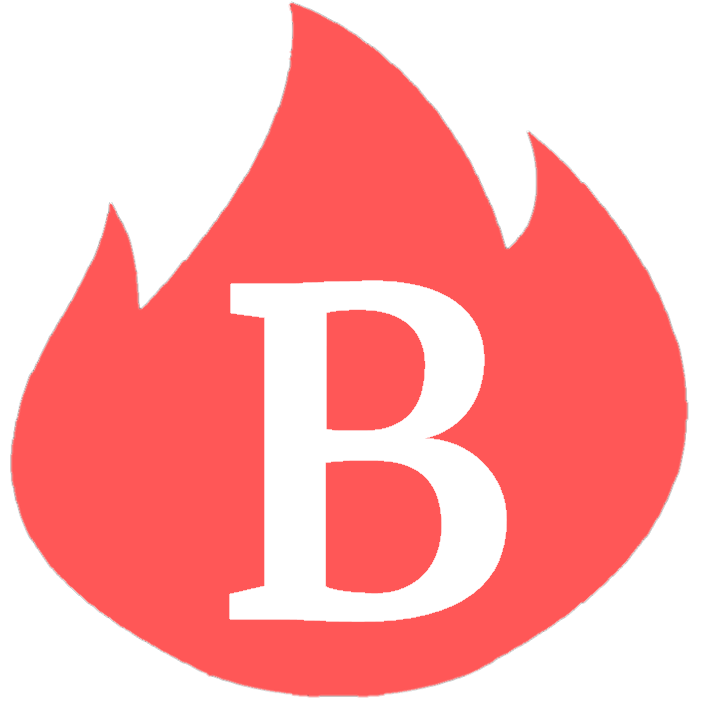 [

  Burn

Savvy 

]
---