A few things I Don't Like...
It's Hard to Hold

Using one of these babies feels more like you're drawing with one of those "fat" permanent markers. Or bigger.
If you're like me, you really have to focus on relaxing that grip.
My hand cramps up way faster with a solid-point burner just because of that wider grip.
They make some slightly thinner versions now, but I'm not sure I'm in love with them.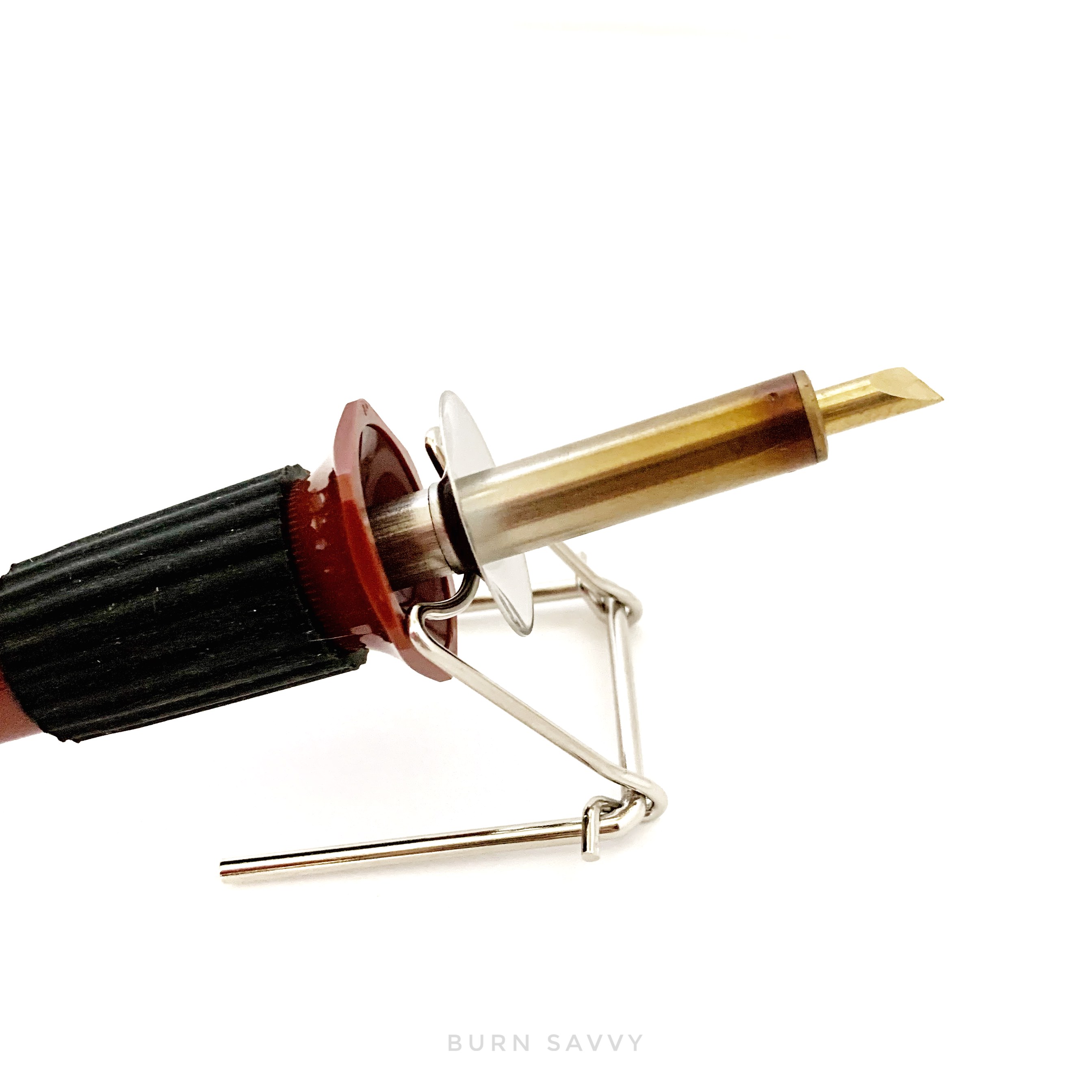 The Stand
The stand is supposed to protect your table from getting burned by your woodburning tool...
...but you have to secure the stand to the table, or both your stand AND your hot pen go sliding off the table to burn a nice new hole in your carpet. (Ask me how I know.)
I usually tape mine down, which solves it.
But I don't like having to use tape everytime I bust out my solid-point burners for the local classes I teach.

It's sloooowwww

If you're a patient soul, this shouldn't be a problem. But if you're patience level suffers, this might be a real struggle for you.
They are slow to heat up.
It takes about 3-5 minutes before it's actually hot enough to do anything.
They are slow to cool down.
Like *foooooorever*.
Wood burning art is already a slow process. If your solid-point burner doesn't have a temperature regulator (a little dial or button to control the heat settings), then it's even slooooower at burning.
Some people like the slow. It helps them meditate in a way - just zone out and burn.
So in that way, slow can be actually quite calming.

Less Control

There are a limited number of solid-point tip styles, so you're pretty much limited to what those tips can do.
Granted, if you really work at it you can pretty much do the same work with a solid-point woodburning pen as you can with a wire-nib pen.
But the wire-nib tools have such a variety of tips that it's easier to get the specific style you want with a wire-nib instead of a solid-point burner.