1. What Uses Are You Looking For?
The style of artwork or crafting that you're going for makes a difference in the wood burning pen tips that you choose.

I believe you can do about any technique or achieve any style with about any nib. But of course, if you have something specific in mind, a specialty nib will definitely make things easier.
CURVED LINES
Sharp nibs have a hard time making curved lines.

But if the nib is rounded – like the wire hasn't been flattened out or the tip of the nib is rounded (like a ball point) – that nib will do much better on those curves.

Examples: Ball point nibs, writing point nibs
---
STRAIGHT LINES
Wood burning pen tips with long or sharp edges are excellent for long, straight lines. The sharper the nib, the thinner the line.

Just remember that thin lines are harder to control than thicker lines.

Examples: Skew, knife points, flat shaders with a sharp edge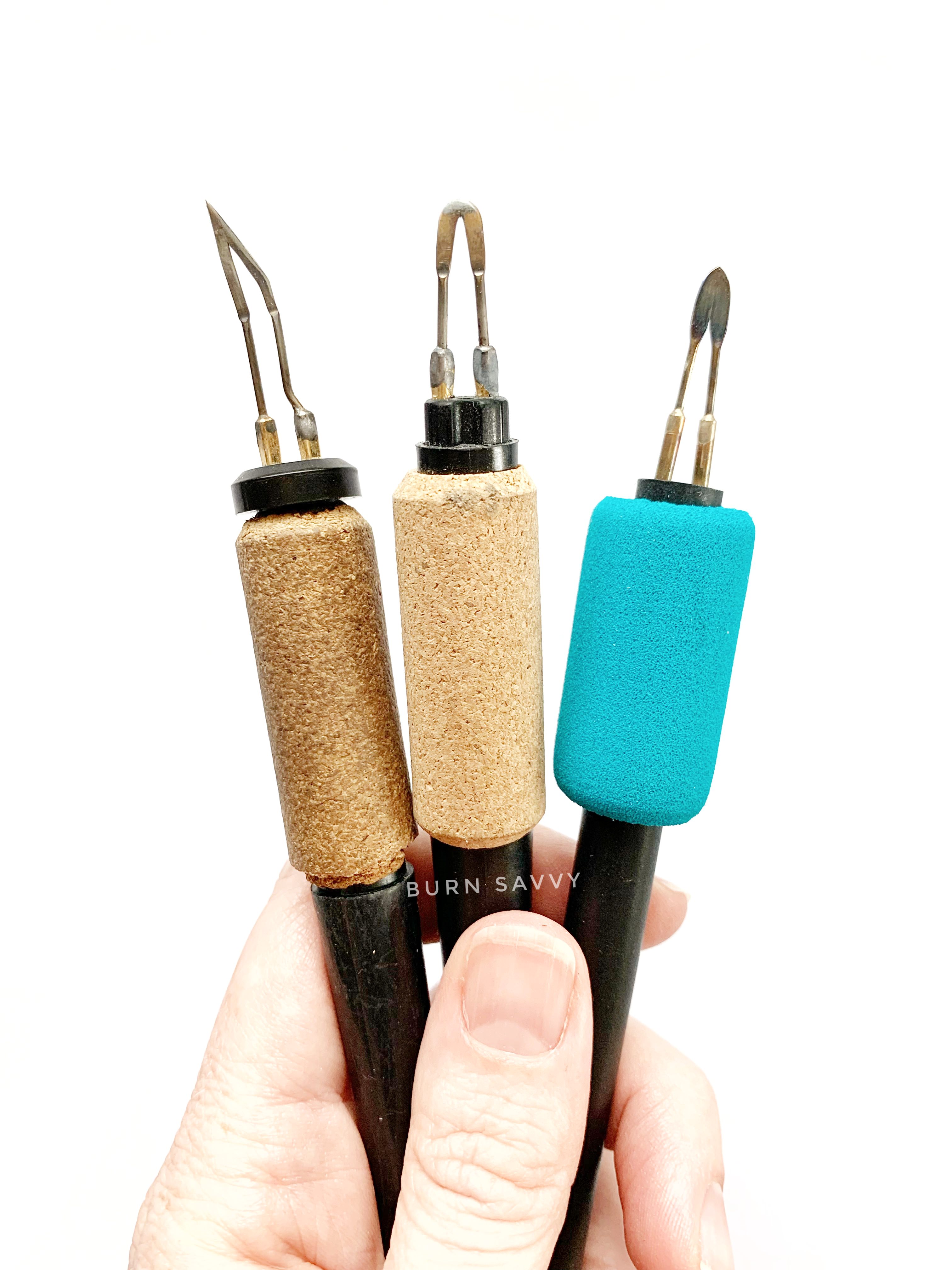 ---
FINE DETAILS
Choosing wood burning pen tips for fine details… well, that can get complicated.

Basically you need to determine if you are doing fine straight lines, fine curves, or fine shading. In general, whatever nib would work for regular straight lines, curves, or shading, try to find a nib that is simply smaller for that purpose.

Examples: Needle point nib, small ball point nib, small flat shaders

Fine details are also very hard to control – so make sure you've honed your technique before you delve too deep into these fine detail wood burning pen tips.
WOODBURNING SHADING
In general, you want a large surface area for woodburning shading.

You can use the basic rounded wire nibs, but I prefer spoon shaders or flat shaders when I'm going for a nice gradient.

Remember, if you're shading in a large area, then a large shader will serve you better.

Examples: Spoon shader, flat rounded shader
3. What Are Your Preferences?

There are a few more factors to consider when buying wood burning pen tips. These choices are based on how you like to burn and how fast you like to work.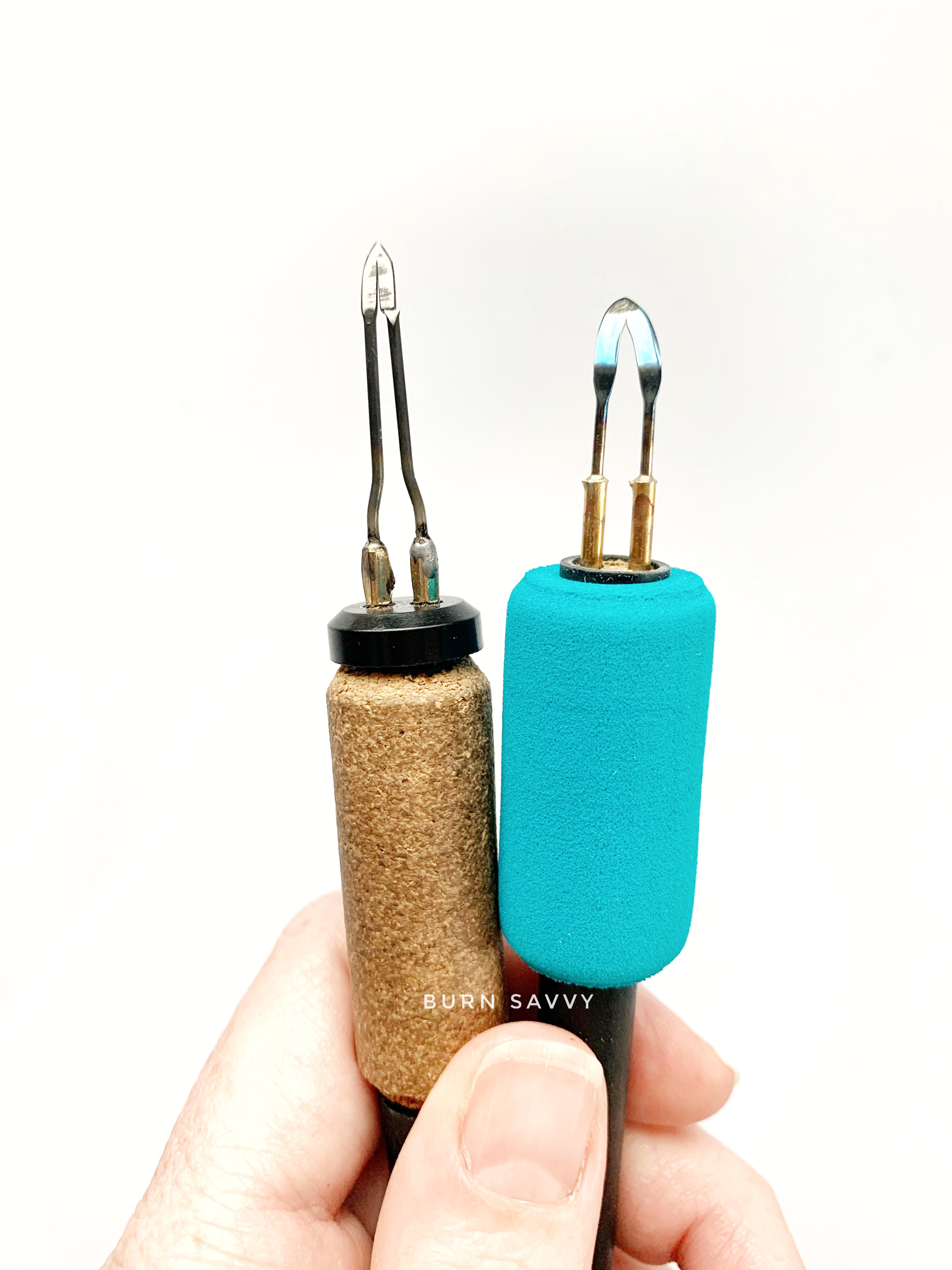 POLISHED VS UNPOLISHED
You can spend an extra couple bucks getting them polished. But is it worth it?

In my experience, a polished nib moves smoothly across the wood. Unpolished nibs tend to drag – which slows me down and makes my burns more choppy.

You can polish them yourself, but it is time consuming and you still need the polishing tools and supplies.

I've done it, but in the end I've decided it's worth it to just let the pros do it. Saves me the time, the effort, plus the money and the storage space I would need to get the polishing supplies.

I'm a big DIYer… but this one isn't worth it to me.
HEAVY DUTY WIRE VS STANDARD WIRE
Don't get this confused with the power cord.

This is talking about the kind of wire that your nib is made of.

A standard wire tends to be thinner – which is awesome for those finer details. They heat up faster too.

But they are more malleable and susceptible to breaking. If you burn at higher heats for any stretch of time, they are more likely to bend and over time they become brittle faster than heavy duty wire nibs.

Heavy duty wire nibs tend to be thicker and heat up slower (but only by a hair), but they hold up to the heat better.

So if you prefer high heats, or burning for long periods at a time, or BOTH, I definitely suggest buying a heavy duty wire if you can.

You can also get heavy duty pens with some brands. Same thing – they hold up to higher heats and longer burn times better.

*NOTE: Most manufacturers tell you not to burn at high heats for very long simply BECAUSE it is hard on the tool. It's also hard on your fingers if they get hot while you burn. If you want to burn at high heats, it's best to do short bursts and take plenty of breaks.

I second that advice.

Not that I'm great at taking that advice. ;)


Heavy Duty Power Cords VS Standard Power Cords
When it comes to power cords (the ones that run from the machine to the pen), the heavy duty power cord delivers more heat to the pen than a standard cord does. But the standard cord is generally a smidgen more flexible and easier to use.

Those are the biggest differences there.
REPLACEABLE TIPS (RT) VS FIXED TIPS (FT)

Sometimes you'll see that you can buy a fixed tip pen or a replaceable tip with a separate pen. Replaceable tips tend to be either wires that you hold onto the pen with screws – like you see on Burnmasters and Tekchic brands – or a bushing that you can plug into the pen – like you see on Colwood nibs.



The upsides to replaceable tips are that they tend to be cheaper and take less storage space than buying an entire fixed tip pen.

You can get a huge selection of nibs at a far less price than a fixed tip pen.



There are downsides though.

With the screw on nibs, those screws have a nasty habit of loosening as you burn. That comes with it's own variety of problems.

With the bushing nibs that you just plug in – they have an extra heat "leak".

The pens will "leak" heat (meaning they get hot) wherever there is a connection.

So if you plug your pen into the wire, they tend to get hot where they plug in. Replaceable tips also have a connection around your fingers where the nib plugs in… which means they tend to cook your fingers more than a fixed tip pen.

But fixed tip pens need larger storage and they cost more.

That bugs.

So for me, I prefer to get fixed tips for the nibs that I use most (I like my fingers NOT cooked, thank you very much). Then I buy replaceable tips for everything else (easier on my wallet and storage space).
WHICH BRAND TO CHOOSE?
Well, I would focus more on a few other factors when choosing the brand of burner.
As for the brand of pens or wood burning pen tips to get, they're interchangeable. Get one that fits your burner.
That leads us to...
WHICH BRAND HAS THE MOST NIB OPTIONS?
That's a great question.
I know Razertip and Colwood have a truckload of nibs. Burnmaster kits also come with a bunch.
But this shouldn't hold you back from buying your favorite burner.
Why?
My favorite brands have interchangeable pens and nibs!

Here are some examples:

Optima, Colwood, and Burnmaster have interchangeable  wood burning pens!
Snag an adapter and the Razertip pen will fit any of these machines too.

Snag the reverse adapter, and any of the above brands' wood burning pens will fit your Razertip.
So if you want a certain brand of burner, but you like the choices from a different brand's wood burning pen tips, you can totally have that!
Just make sure you buy one of the tools that can be interchangeable.