Hey Pyro! Want a delightful woodburning project delivered to your door each month? The Woodburning Crate Club is a subscription box that makes pyrography projects easier, super convenient, and wayyyy more fun!
It's packed full of all the materials you need to create a woodburned masterpiece from start to finish.
These are projects that you can proudly use, display in your home, or happily give as thoughtful DIY gifts to your friends and family.

The Woodburning Crate Club lets you...

Skip the artist block.
Skip the overwhelm.

Skip the extra trips to the store to get whatever the devil you forgot.
Can we skip to the good part? ;)

(anyone else gonna have that song stuck in their head now?)
Pin It  ⇣ Save It ⇣ Share It
What Is the Woodburning Crate Club?
We hear it all the time.
"Where can I find a good woodburning project? I'm a beginner and I have no idea where to start!"
Frankly, woodburning artists and crafters don't have a whole lot of resources.

We're here to change that.
We know what you need.

Pyros like you want high quality wood and lovely patterns that are easy to follow - patterns that you didn't have to hunt down on your own.
Pyros like you want a craft that you can sit down and make withouth running to the store for last minute forgotten materials.

Pyros like you want woodburning projects that you can proudly set on the mantle, give as gifts, or use around the house.

Pyros like you want to try out unique materials that you might be too afraid to try on your own - like gourds and leather - and have someone hold your hand while you burn it.

We got you.
That's why we here at Burn Savvy created the Woodburning Crate Club.
You're going to love it.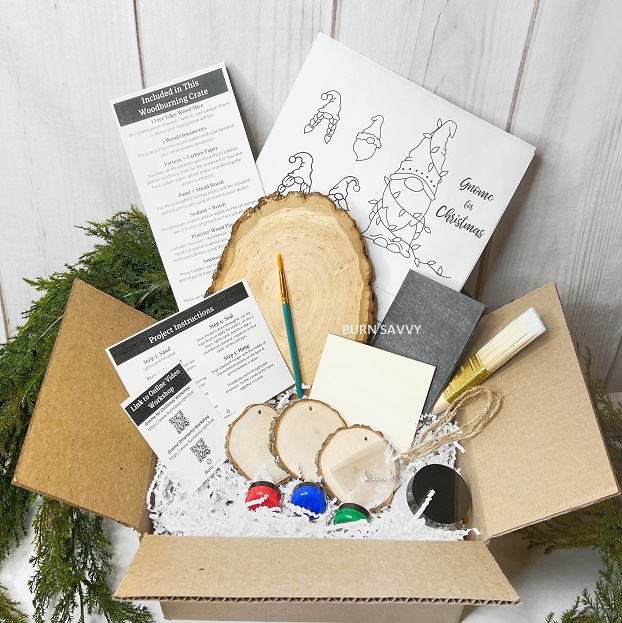 Inside each Crate that you get delivered every month is a delightful woodburning project (more than 1 sometimes).
But it's not just a slice of wood and a "go for it" pat on the head.
You get all the materials you need to make a solid pyrography project - from start to finish - that you can be proud of.
You'll get...
wood (or leather/gourds/whatever we're using this month)
a pattern
carbon paper (for transferring the pattern to the wood)

an online video woodburning workshop
sealant + applicator

hanging hardware (if that applies)
It literally comes with all the stuff.
Just bring your burner and tools - or buy them with the add-ons - and you're set.

Check out ⇣ this video ⇣ giving you the grand tour of what's in the first ever Woodburning Crate Club subscription box and the Woodburning Tools & Accessories Kit add-on.

Want to see a sample?
You can check out the very first Crate Club project box + it's video workshops right here.
I won't be making every box public with all of it's ingredients, steps, etc.
So enjoy this sample.
And if you're ready to join the Crate Club, I'll see you on the inside!