The Burn Savvy Wood burning Retreat 2023
The 2023 Burn Savvy Wood Burning Retreat is bigger, hotter, and definitely one you don't want to miss!
Get away from it all in an unforgettable 3-night stay with your fellow pyros, and set your spark of pyrography excitement ablaze as you experience woodburning as never before.

No skill level required!
This retreat is designed for beginners and experts alike to enjoy, learn and grow.
Prepare yourself for the hottest event of the year.


SIGN UP BY
Sunday April 8, 2023 by 12 midnight (Arizona time)
TO SCORE A DISCOUNT

This year, we are going BIG!
You will create a large project for you to take home - one that you can proudly display on the wall or on your mantle.

Experience hands-on classes where you learn techniques and the best tricks of the trade. 
Test drive the best brands of woodburning machines for yourself.
With everything that we've got planned, this is going to be even better than our last retreat!

Prepare for a private, luxury pyrography experience in the northern Arizona mountain town of Flagstaff where you can let your creativity run wild.
Burn. Eat. Relax. Repeat.
It doesn't get any hotter than this.
⇣ Get a Sneak Peek With These Videos ⇣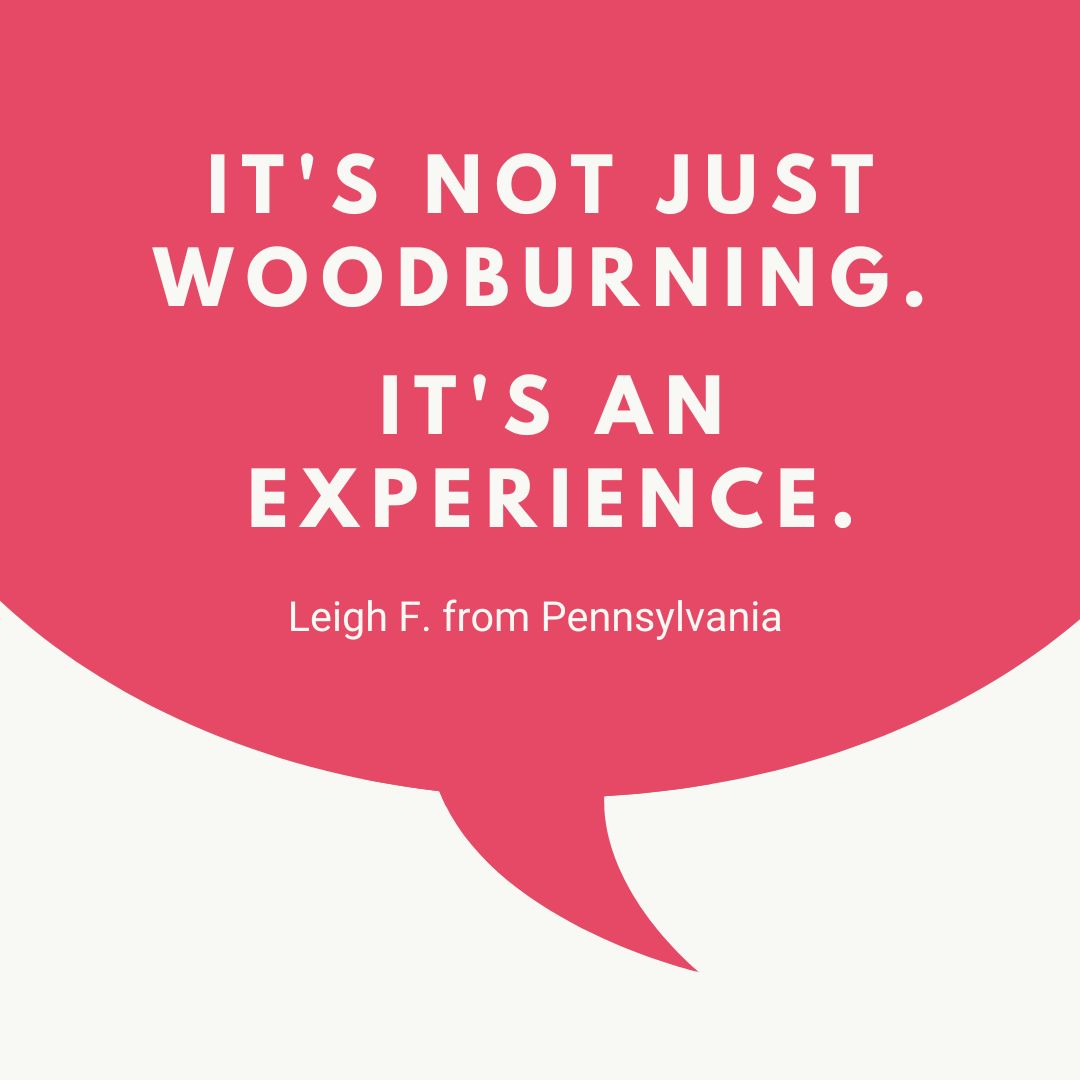 Your Wood Burning Retreat Details

Dates
June 15-18, 2023

Check In: Thursday, Time TBA
Check Out: Sunday, Time TBA

Arizona Time (MST)

Subject to Covid-19 travel restrictions, the woodburning retreat may be rescheduled or refunded as needed. Refunds subject to refund policy - see retreat FAQ section below for more details.

Location
Private 5-Star Luxury Mansion in downtown Flagstaff, Arizona
Enjoy a 3-night indulgent experience in a spacious, rustic-industrial styled mansion conveniently located in downtown Flagstaff close to restaurants, murals and tourist shops.

Nearby Attractions:
Lowell Observatory


Snowbowl Ski Resort


Sedona

Facts About Flagstaff, Arizona

NEAREST AIRPORT

Flagstaff Pulliam Airport (Code FLG)
VENUE DETAILS
No pets
Non-smoking
3 levels with stairs

WEATHER 
Flagstaff, Arizona in June is mildly cool with a gentle breeze.

Average high: 88°F (31°C)
Average Low: 54°F ( 12°C )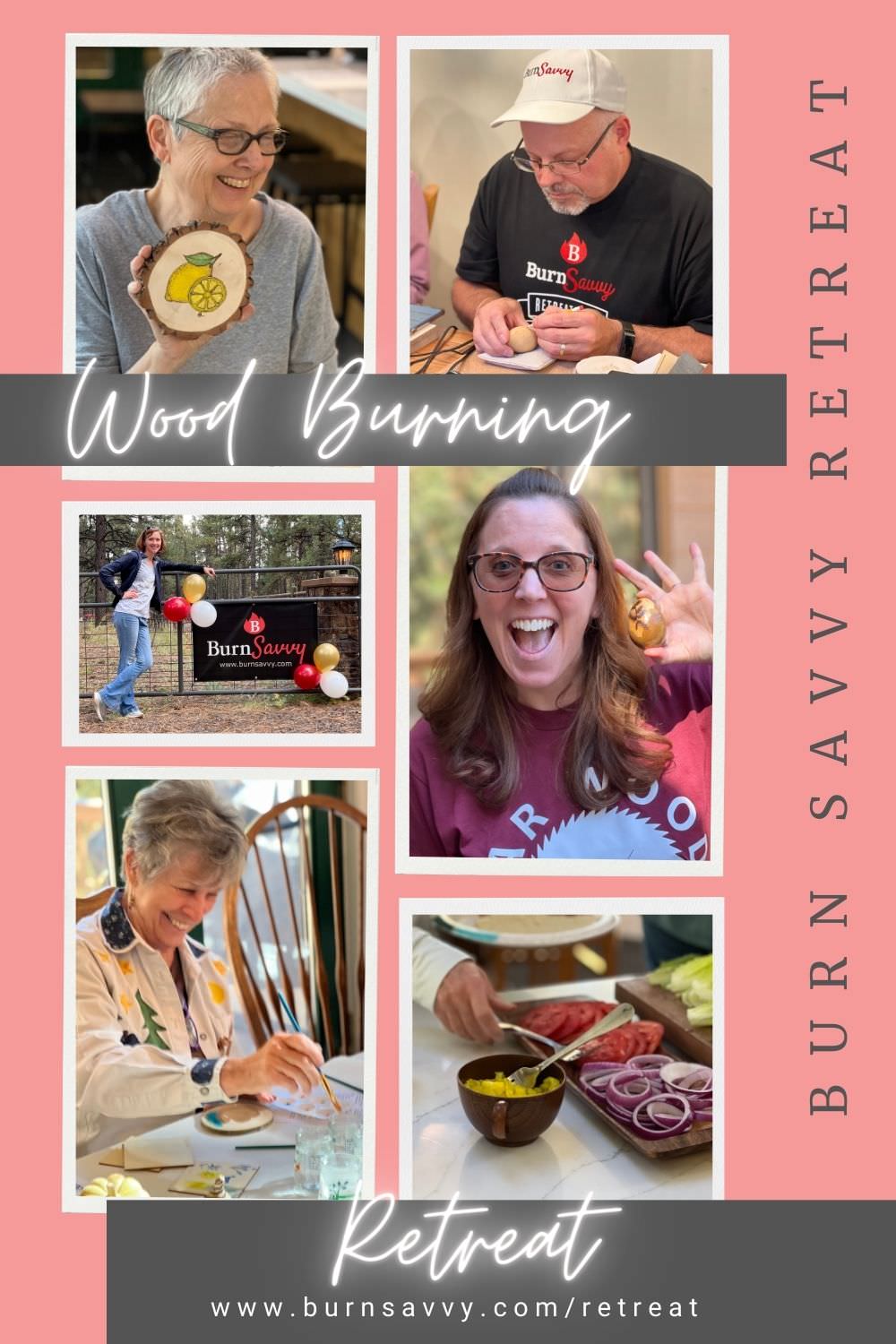 What Do You Get With Your Burn Savvy Wood Burning Retreat Tickets?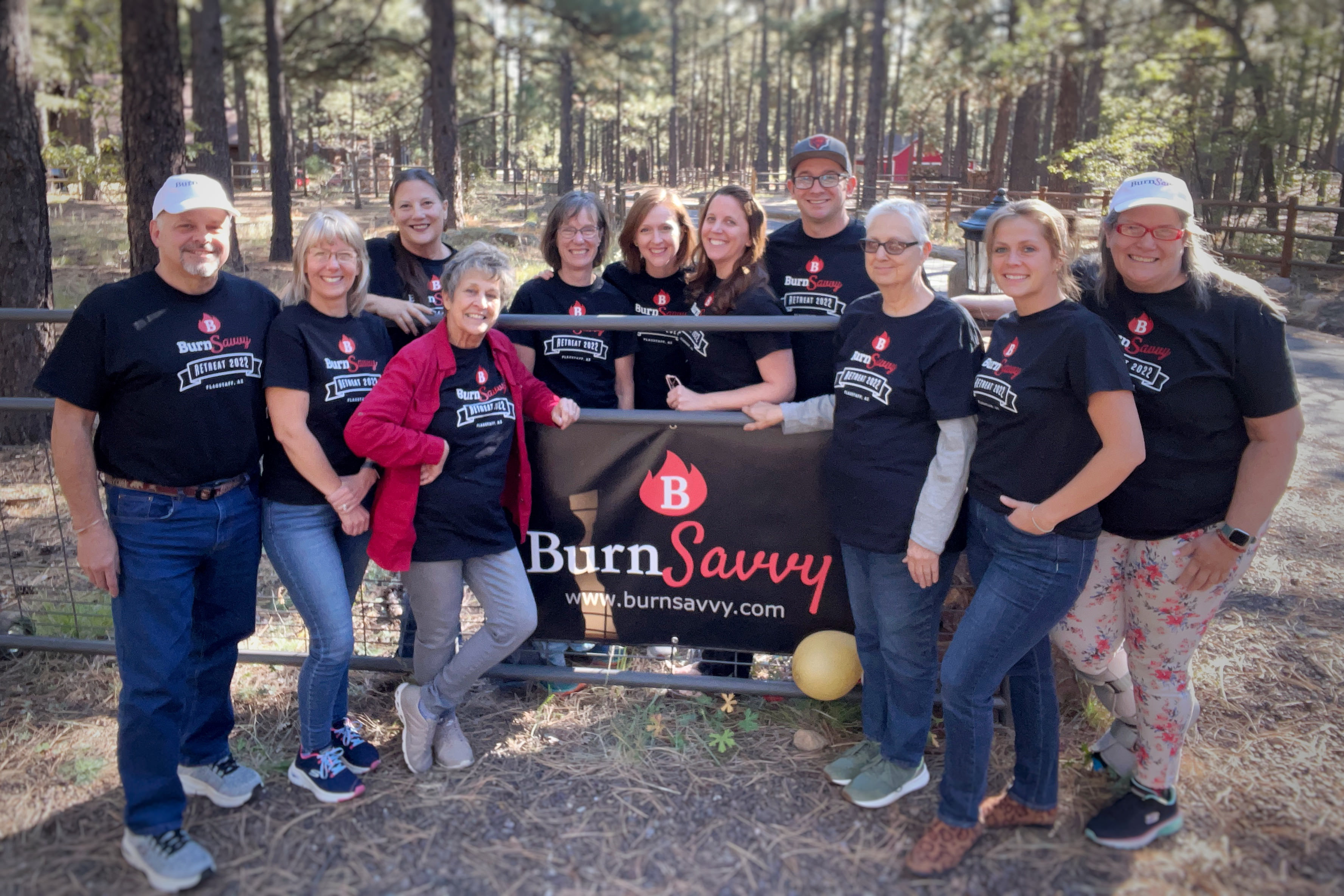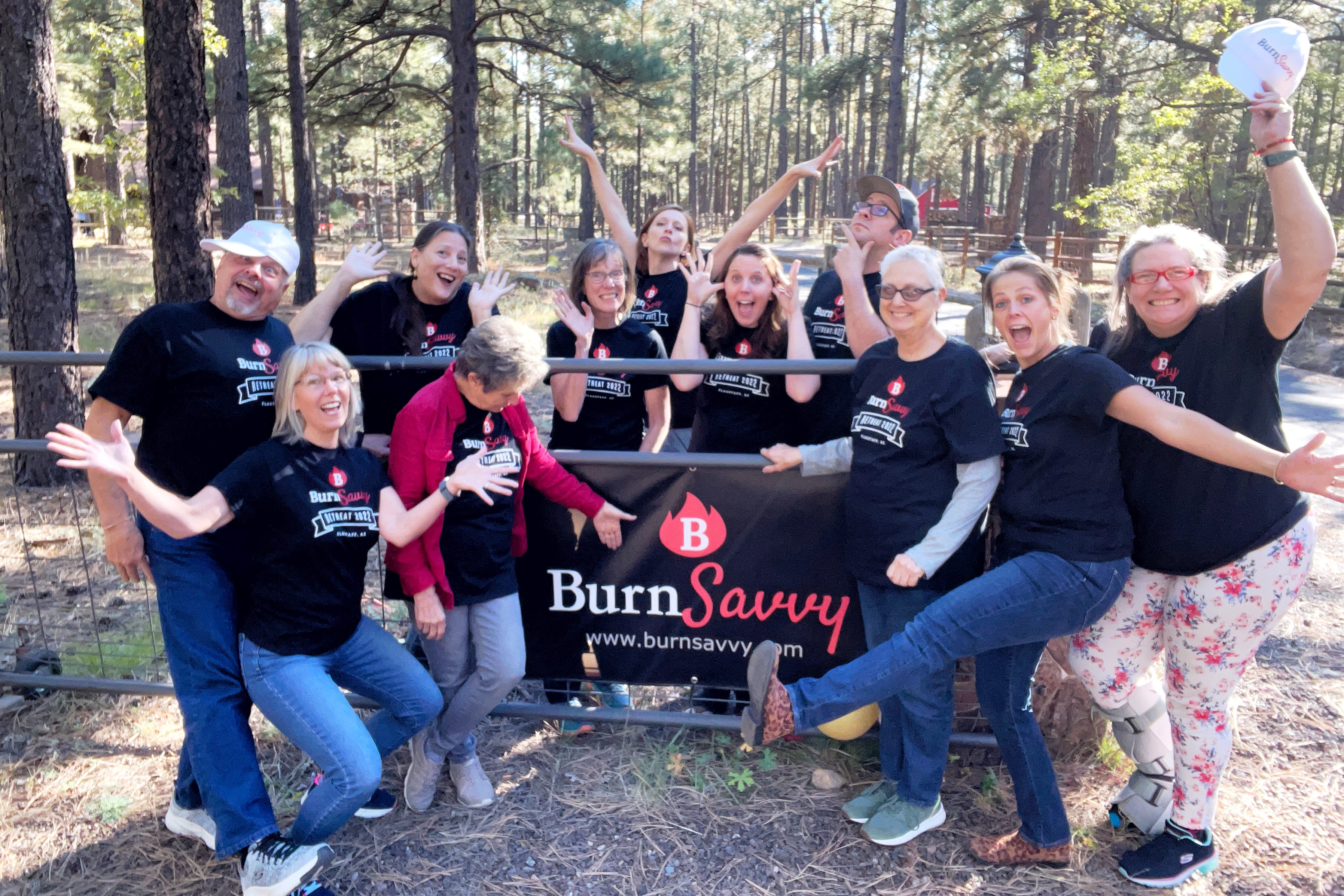 Prepare to be spoiled!

The retreat will be held in the charming mountain town of Flagstaff, Arizona.
All supplies, materials, and first-class accommodations are included in your wood burning retreat. 
Breakfasts, lunches, snacks, Thursday and Saturday night's dinner are included as well.
We learned that it's good to give everyone a break when you are engulfed in so much pyro goodness.
So Friday evening, you are free to explore the town and enjoy local restaurants on your own, or enjoy a night in and cook your own dinner in one of the 2 luxurious kitchens on site.
This gives you a moment to go snap pictures by one of the many murals around town, or choose from their delicious small town restaurants.
Flagstaff has a lot of charm that you don't want to miss.
These evenings are great for free burning time too!
Included with your stay
3-night stay in a stunning rustic mansion in the Arizona mountains


Exclusive Burn Savvy swag


Burn a large project that you can proudly display when you get home (the BEST show and tell!)


Workshops to teach you various wood burning techniques and skills


Plenty of  burning time


A variety of woods to burn


Friendship & fun with your fellow pyros


Daily giveaways

Nearby restaurants, murals, and shopping


Continental and homemade breakfast every morning


Catered & dine-in lunches


Group dinner together on Thursday and Saturday night


Snacks, bottled water, coffee, tea and soda


Inspirational mountain and forest views


Rest & relaxation time


2 Hot Tubs + Game Room


WiFi and other amenities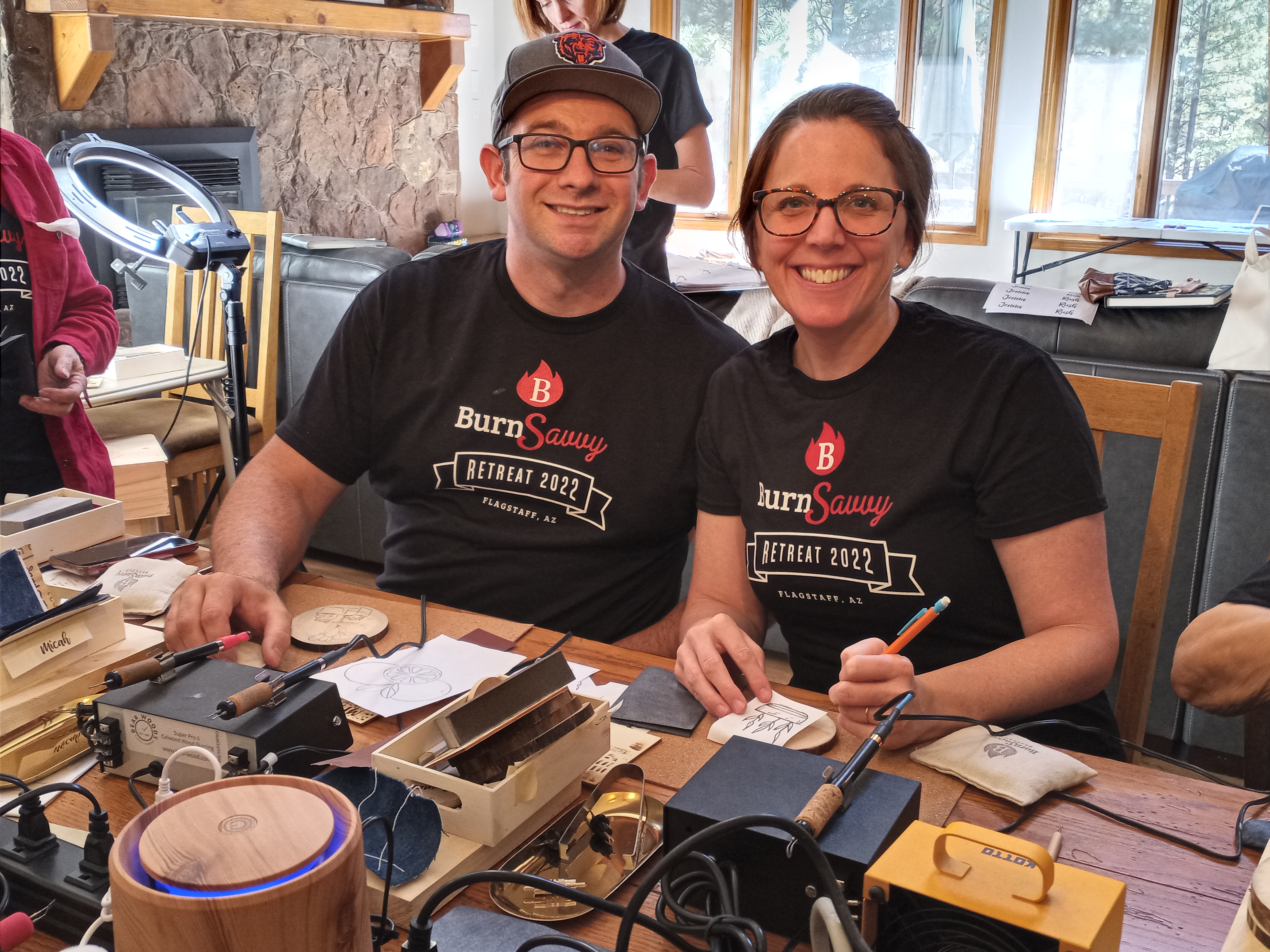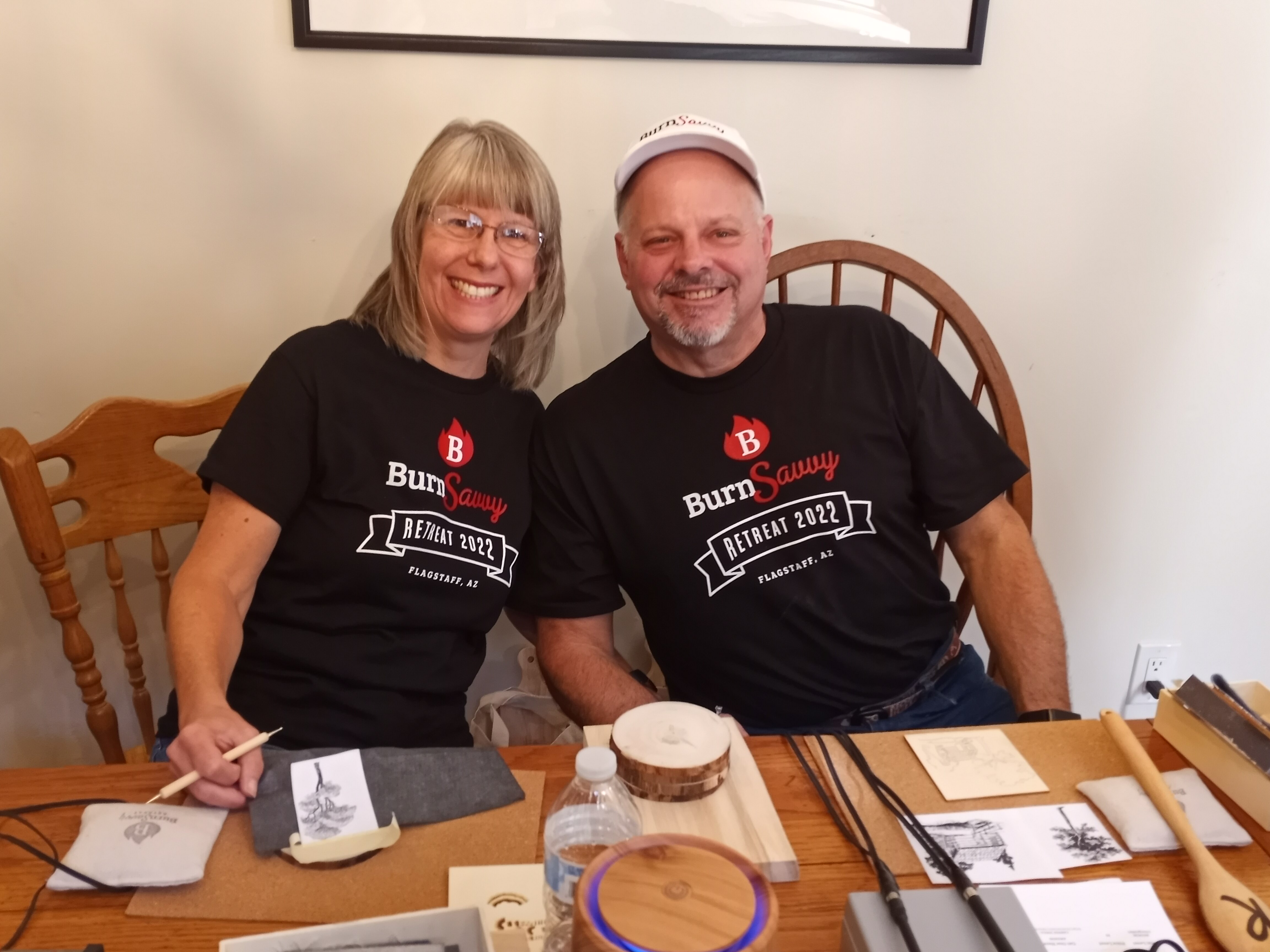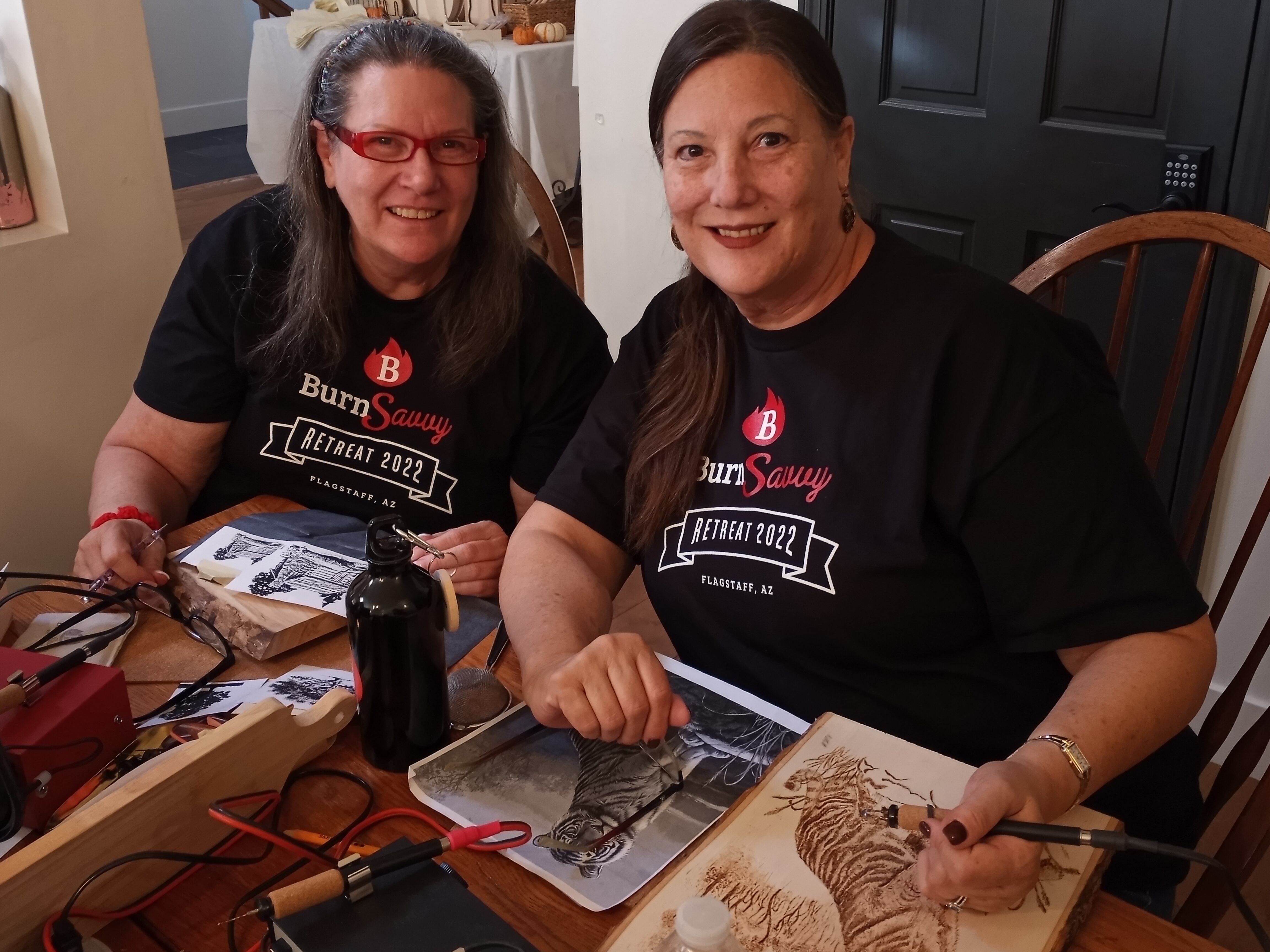 This is an incredible getaway for individuals, couples, friends and family!
Come celebrate your anniversary.
Bring your mom to celebrate her birthday.
Bring a sister.
Bring a friend.

Or come solo to celebrate the pyro in you - because YOU deserve it - and enjoy the new friendships you make while you're here!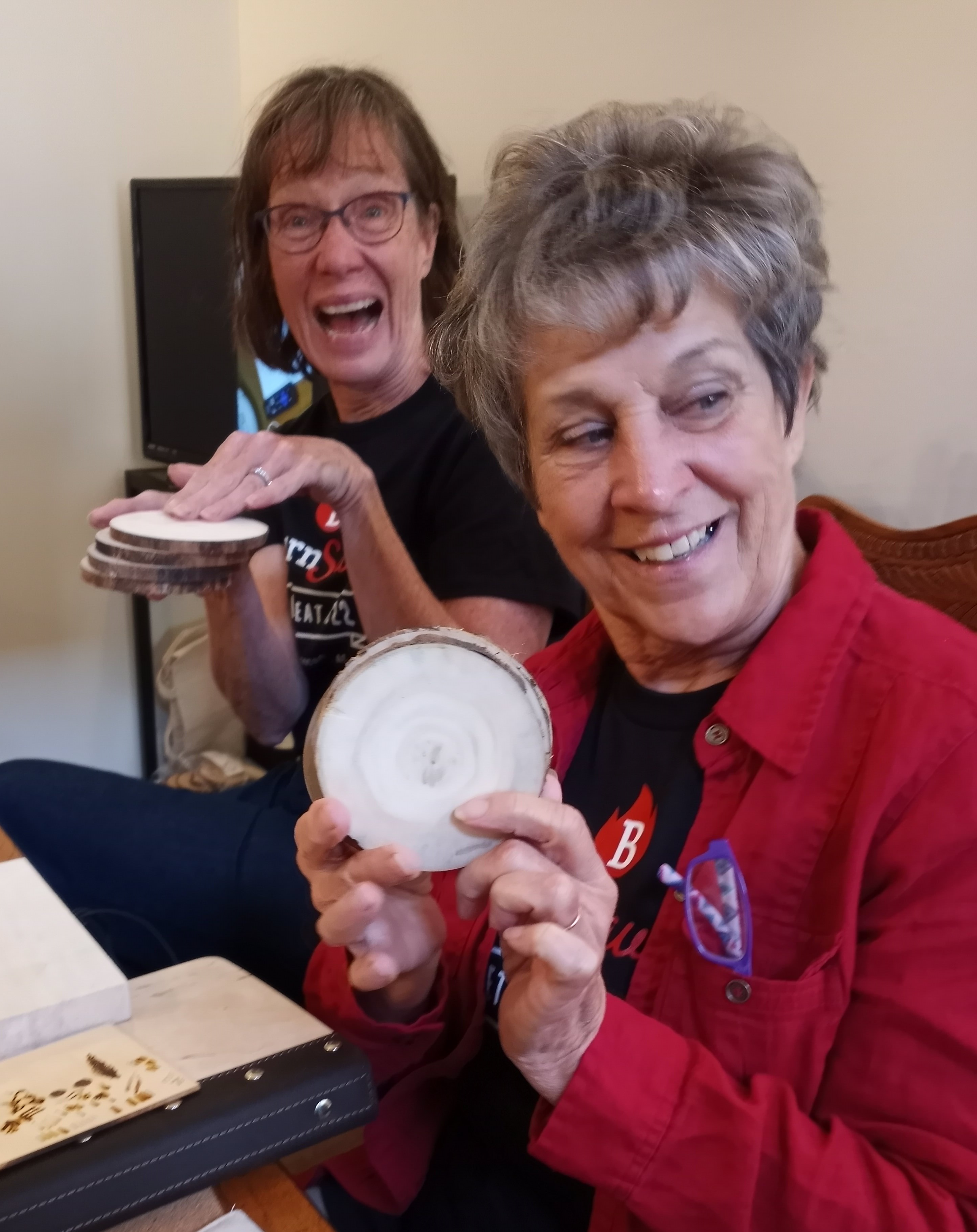 Burning, burning and MORE burning!
Plus time to relax, enjoy the town, and make new friendships.

You will use the best wood burning machines, tools, and materials out there.
Learn professional wood burning tips, tricks and techniques from your favorite Pyro Professor and hostess - Jannie Lisonbee - who will be leading the Burn Savvy Retreat.

There will be wood burning classes, free burn time, and some good old fashioned rest and relaxation to enjoy the amenities on site and around this mountain town.

It's going to be HOT.
it's a pyrographer's paradise

Here is a taste of what you can expect...
All the top name-brand woodburning machines ready for you to try out


Different kinds of woods to burn


A variety of mediums to try


Wood burning tips and techniques


How to burn mountains


How to burn trees


Patterns and template transferring


Basic shading techniques


Adding sealants and hardware


My personal library of pyrography and wood burning books


Artist health, safety and stretches


A plethora of other woodburning tools and supplies to try out for yourself


Plus PLENTY of free burn time to enjoy on your own and with your fellow pyros!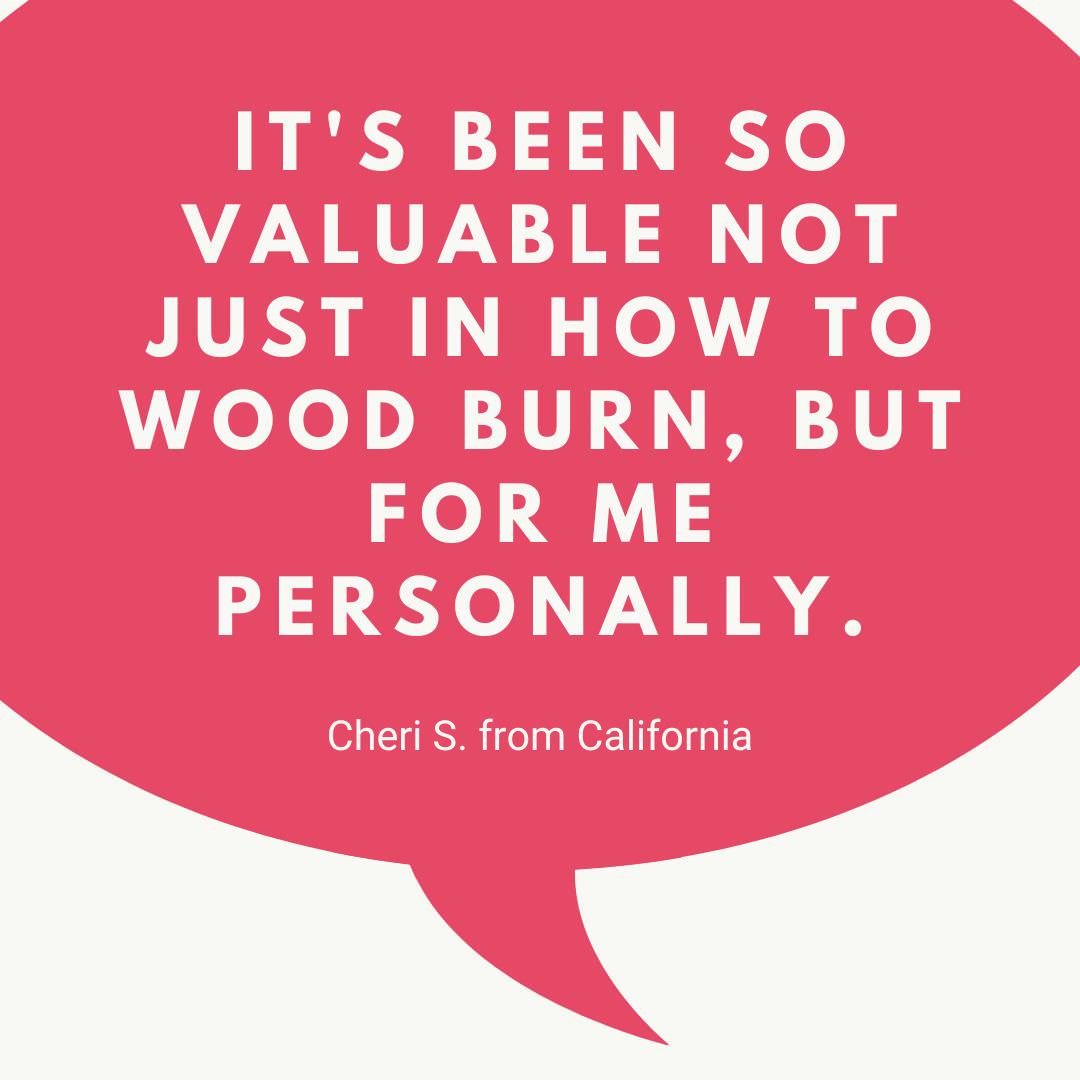 The 2023 Burn Savvy Retreat Venue

If all that hot wood burning goodness isn't enough for you, take a look at where we're staying!
You do NOT want to miss this.

Can you just imagine burning here with your fellow pyros? Yaaasssss!
Burn your project on a giant table perfectly suited to our group of pyros.
Enjoy a twin bedroom with capacity of 1-2 people per room, or a private bedroom with a California king - both room options with your own bathroom and mini-fridge ensuit.
Or enjoy a twin bedroom with a sliding glass door leading directly to the hot tub.

Talk about luxury!
And for those of you on a budget, we just added the bunk room (you still get your own bed of course).

There's a game room, 2 spacious kitchens, 2 hot tubs, and 3 comfortable living rooms.

This is the experience of a lifetime.
Relish your stay in this high-end chic industrial mansion as you...

Drink in the beautiful summer views from the deck.


Simmer & soak in one of 2 hot tubs.


Breathe in that fresh mountain air.


Eat delicious home cooked, catered, dine-in & easy self-served meals.
Participate in daily giveaways.


Wear exclusive Burn Savvy swag.


Flip through a wood burning book while you sit back in an armchair or on a comfy couch.


Chill & burn with your fellow pyros.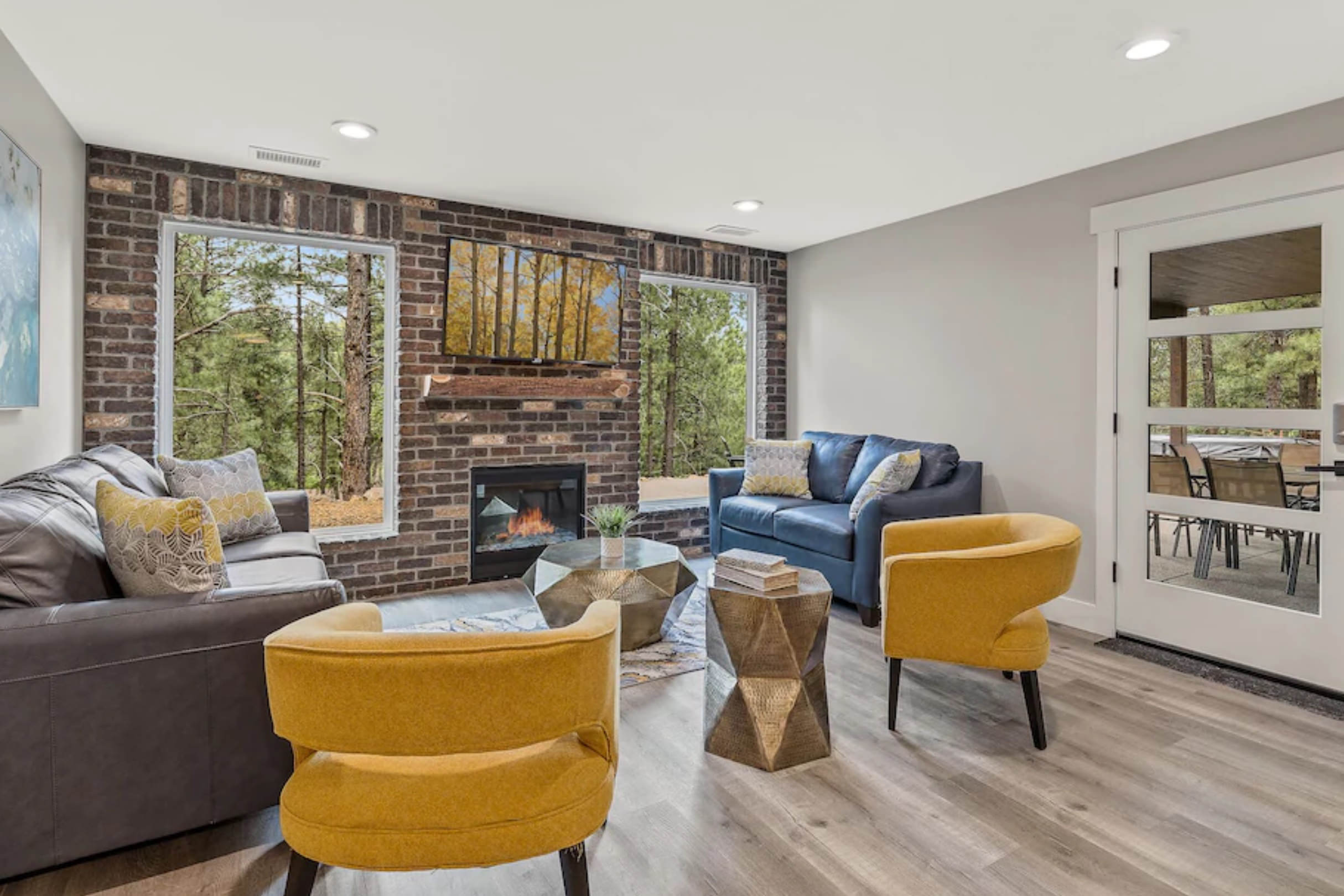 Savor this cozy space as you enjoy a pyro book or two.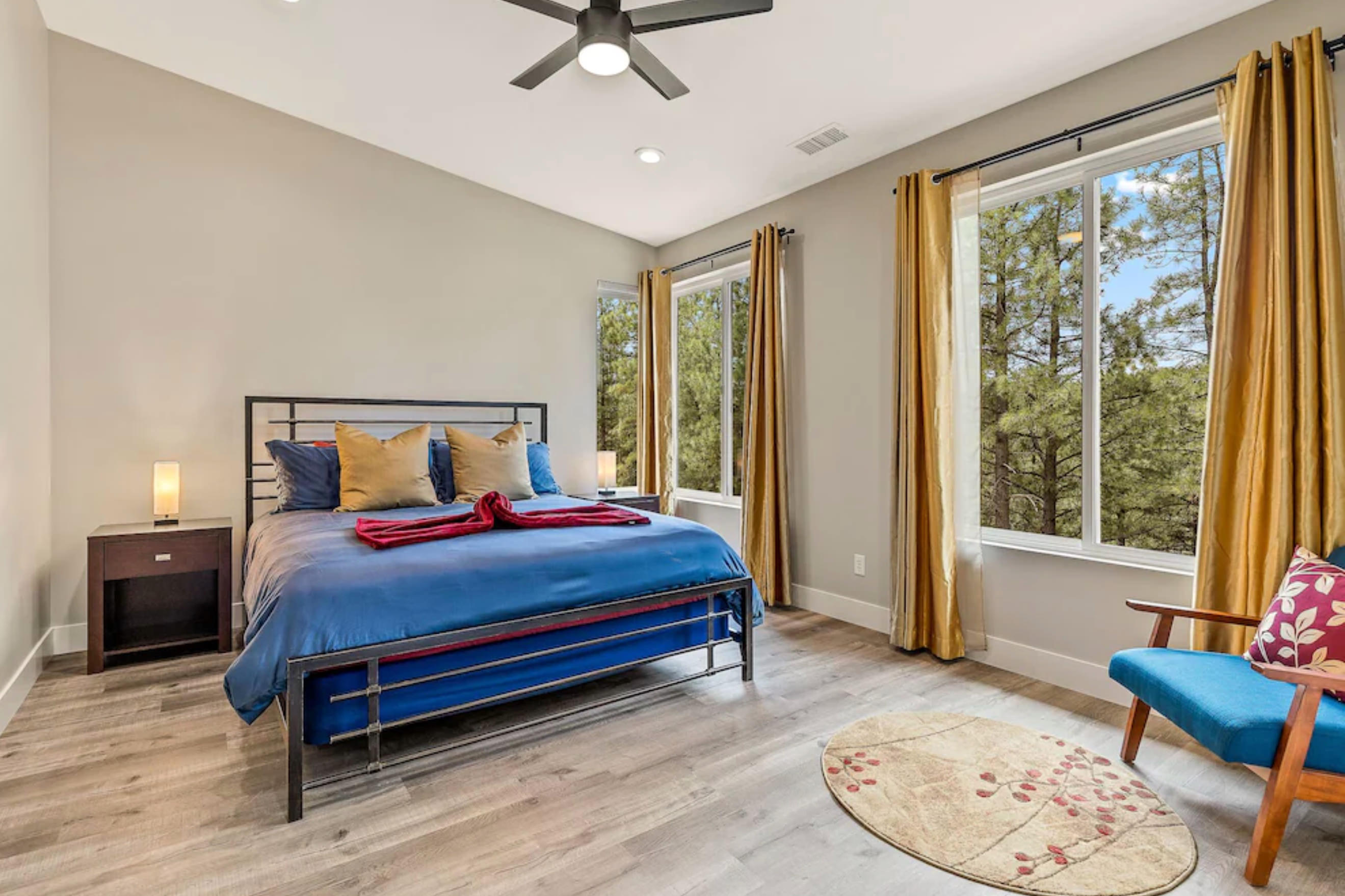 Enjoy a private room with your own mini fridge and bathroom ensuite!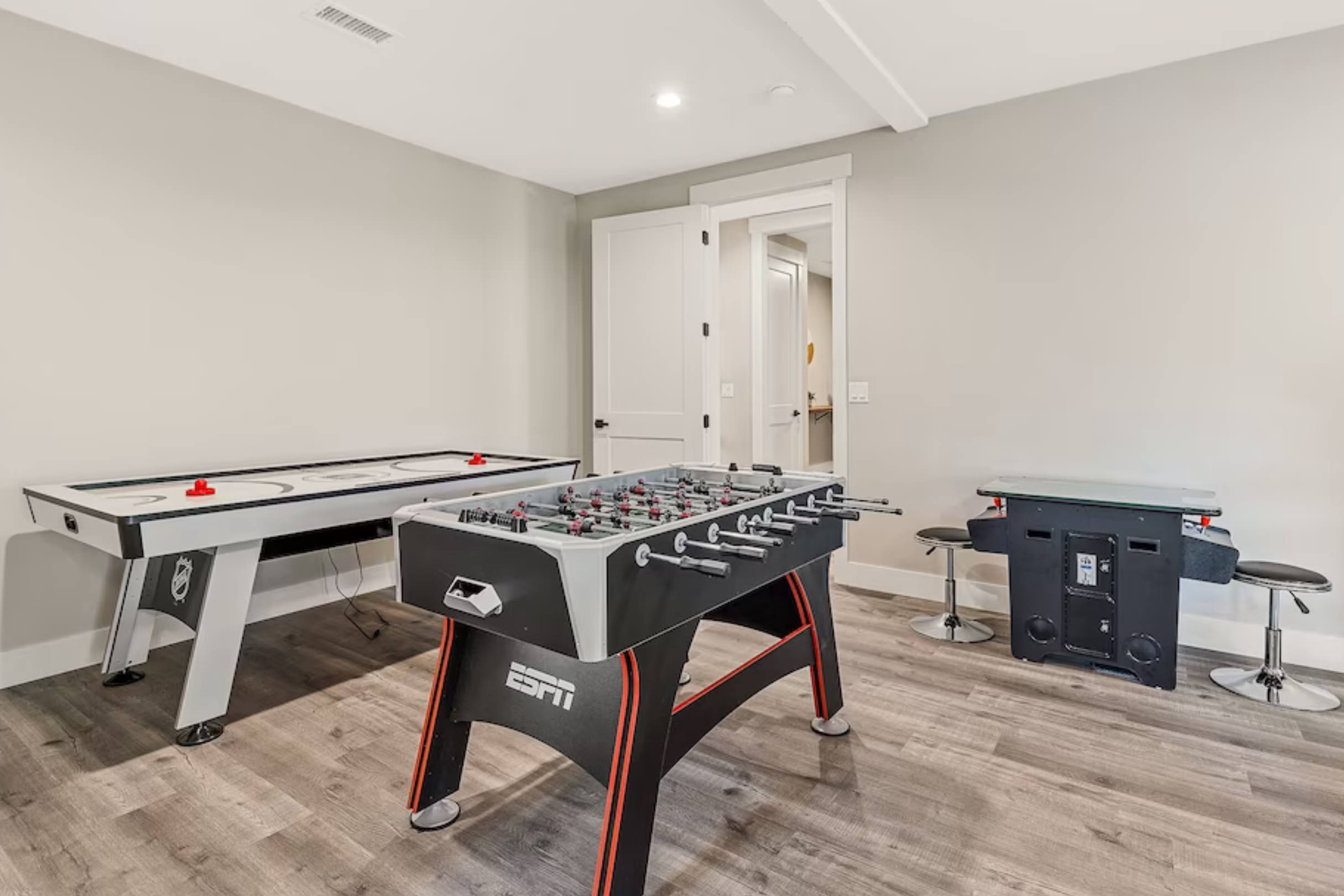 The Game Room
Enjoy a round of pool!
One of 2 spacious kitchens.
When you're not burning, enjoy the great outdoors together!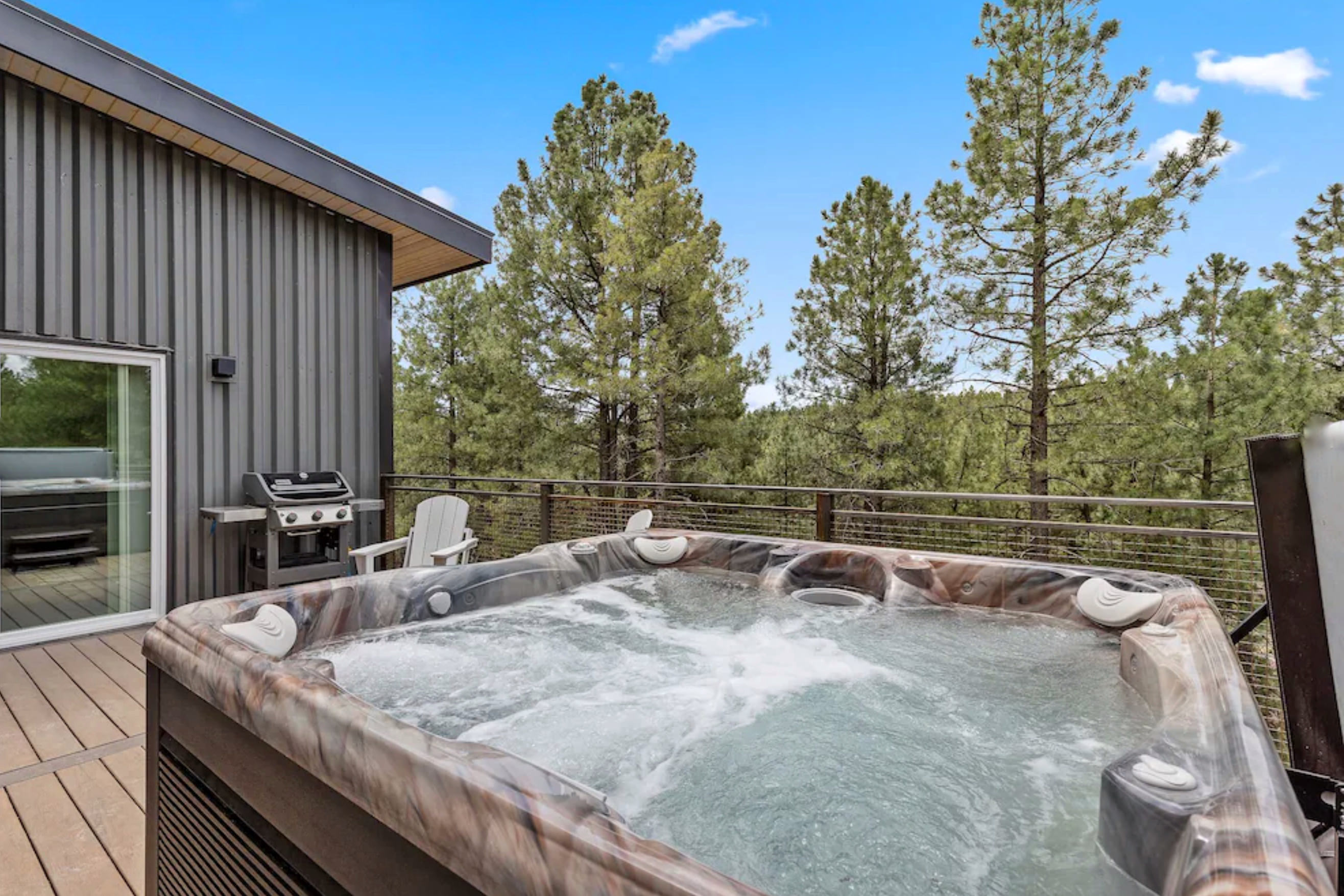 End the day with a perfect simmer in one of 2 hot tubs on site.
See What Others Are Saying 
About Jannie's Woodburning Workshops
"Jannie has now given me the confidence to tackle the woodburning set I received for Christmas."

-Debbie R.

"Jannie is outstanding! Her care, support and communication are phenomenal."

-Cyd P.

"Loved your woodburning class. Thank you Jannie! Would highly recommend."

-Ginny V.
More Raving Reviews About Jannie's Online Woodburning Workshops & Tutorials
---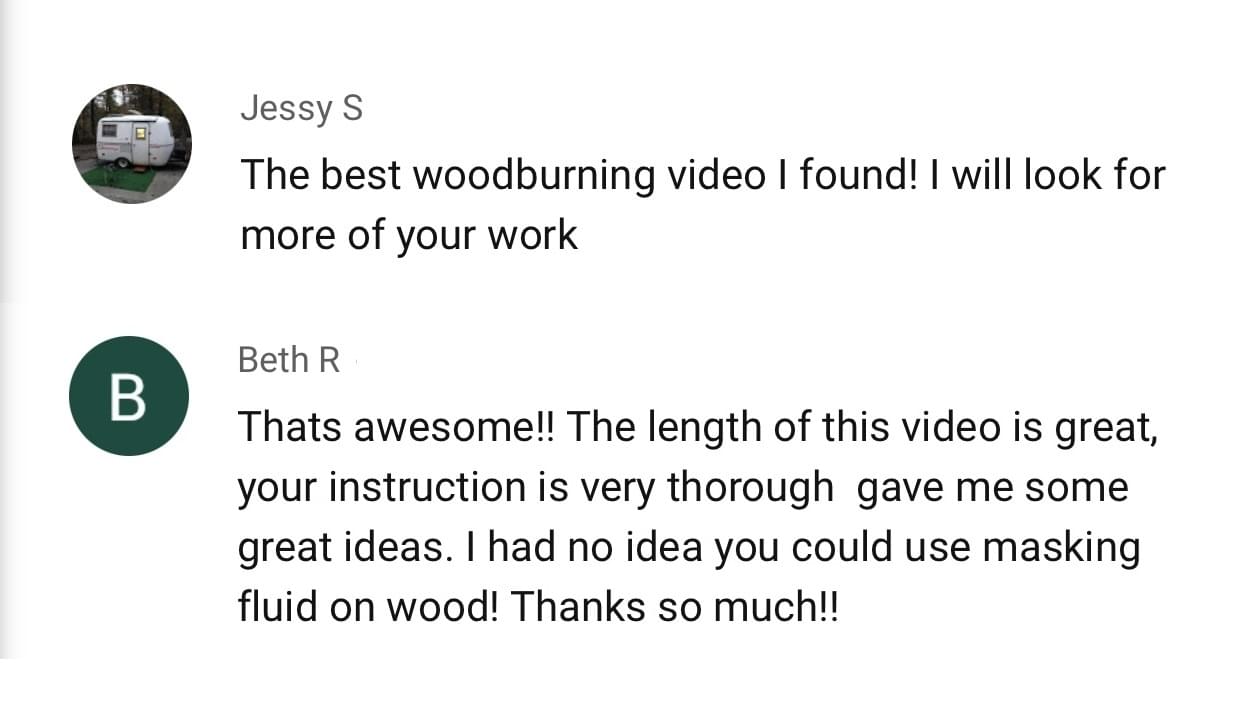 About Jannie's Previous Challenges


Get Your Tickets Here for The Burn Savvy Wood Burning Retreat

Save With The challenge + Early Bird SALE

TWIN ROOM 1*

1 Ticket

Twin Bed (not bunk)

Adjacent Bathroom

Direct Access to Hot Tub Patio


TWIN ROOM 2*

1 Ticket

Twin Bed (not bunk)

Bathroom Ensuite

Mini-Fridge Ensuite


PERSONAL ROOM*

1 Ticket

California King Bed

Bathroom Ensuite

Mini-Fridge Ensuite


COUPLE'S ROOM*

2 Tickets

California King Bed


Bathroom Ensuite

Mini-Fridge Ensuite


*NOTE: The retreat venue requires the use of stairs. Please read the FAQ below for more info.
⇣ BUY YOUR TICKETS HERE TODAY ⇣

Limited Number of Tickets Available.
Don't wait until we are sold out!


FAQ
Frequently Asked Questions
About the Burn Savvy Woodburning Retreat

WHO IS THIS FOR?
This retreat is for adult pyrography artists and crafters on ANY skill level who are excited to spend some quality time exploring the art of pyrography with their fellow pyros.
If you are ready to woodburn and  relax with pyros just like you in a deluxe cabin in the woods - then this Burn Savvy Retreat is for YOU.
All pyros are welcome - from beginners to experts alike.
Space is limited so make sure you get your spot early.
DO I HAVE TO HAVE A CERTAIN SKILL LEVEL?

No skill level required! You can be an ultimate beginner or a pyro master - or anywhere inbetween - and still feel the magic of this wood burning retreat.
DO I NEED TO FIND MY OWN LODGING?
No.
You get 3 incredible nights with all-inclusive sleeping arrangements at a deluxe mansion with your own bathroom ensuite!
DO I NEED TO PROVIDE MY OWN FOOD?

We will provide...
continental breakfasts,

catered and dine-in lunches,

snacks

beverages like bottled water, coffee, tea, and juice

group dinner on Thursday and Saturday night

...all included in your stay.

Dinner on Friday will be on your own.
We discovered from last time that it's good to take a break when you're swimming in so much goodness day in and day out. This gives everyone an opportunity to enjoy a quiet night in or go out on the town for the full Flagstaff experience!
Slip on over to the restaurants in town, or bring your own dinner and keep it in the second kitchen (or your own mini fridge in your room if you opted for that).
DO I NEED TO PROVIDE MY OWN TRANSPORTATION?
Yes. Flights and transportation to and from the woodburning retreat are not provided. We recommend hiring a car - taxi, uber, lyft - and encourage you to share a ride with your fellow retreaters to get yourself to and from the retreat before, after, and if your going out on Thursday night.
WILL YOU BE TEACHING BUSINESS AND SOCIAL MEDIA CLASSES?
No. This Burn Savvy wood burning retreat is art-and-craft focused - meaning we are giving you a rich, hands-on experience with burning a unique pyrography project that you can't get in other events.
WHY GO ON A WOODBURNING RETREAT?
In this world of hustle and isolation, experiences like this Burn Savvy Wood Burning Retreat are rare and worth the investment.
Here, you get to escape the daily grind and relax with like-minded artists and crafters in the beautiful mountain town of Flagstaff in northern Arizona.
You will explore woodburning techniques, try new things, and go home with a wood burning project that you can proudly hang on the wall or place on the mantle.

Pyrography is so different from any other art form.
You'll be burning with your fellow pyros who understand your struggles and your successes with wood burning.
You also gain new friendships and lifelong memories.
WHAT BRAND OF WOODBURNING MACHINES WILL BE AT THE RETREAT?

Colwood, Razertip, Optima, Burnmaster, Truart, Tekchic, Walnut Hollow and possibly more.
There will also be branding irons, and other pyrography tools for you to try if you like!

CAN I GET A DISCOUNT?
Yes! If you book during the Early Bird pricing, you can save $100. If you are coming as a couple, you can also save money on your tickets by purchasing the Private Couples Room with a shared bed.

ARE TICKETS REFUNDABLE?
There is a $500 non-refundable deposit included in your ticket price.
The remaining ticket price is refundable within 14 days of your original purchase date.
Read more about our refund policy in our terms and conditions page.

Any gifts you receive after signing up for the Burn Savvy Retreat do not need to be returned. Enjoy. :)
IF I AM NOT FROM THE USA, CAN I STILL COME?

Absolutely! Get yourself to the Burn Savvy Retreat and back home, and we will provide you the pyrography experience of a lifetime.

WILL THERE BE STAIRS AT THE RETREAT?
Yes, there are stairs at this location. If stairs or moving luggage are a problem for you, please do not sign up.
WILL THERE BE WIFI?
Yes. Due to the rural nature of the area, wifi and cellular data may have spotty reception.

Your Host & Mentor

---
Hey Pyro! My Name Is Jannie Lisonbee
I started out right where you are - with a burner I didn't know how to use, wood I was afraid I would ruin, and no idea where to start.

But now I have...
Sold my art world wide
Taught woodburning art at the local art studio since 2019

​

Created

pyrography courses

,

workshops

&

challenges
Founded BurnSavvy.com & Burn Savvy Academy

Now I'm anxious to help pyros like you to dive in and reach your woodburning potential!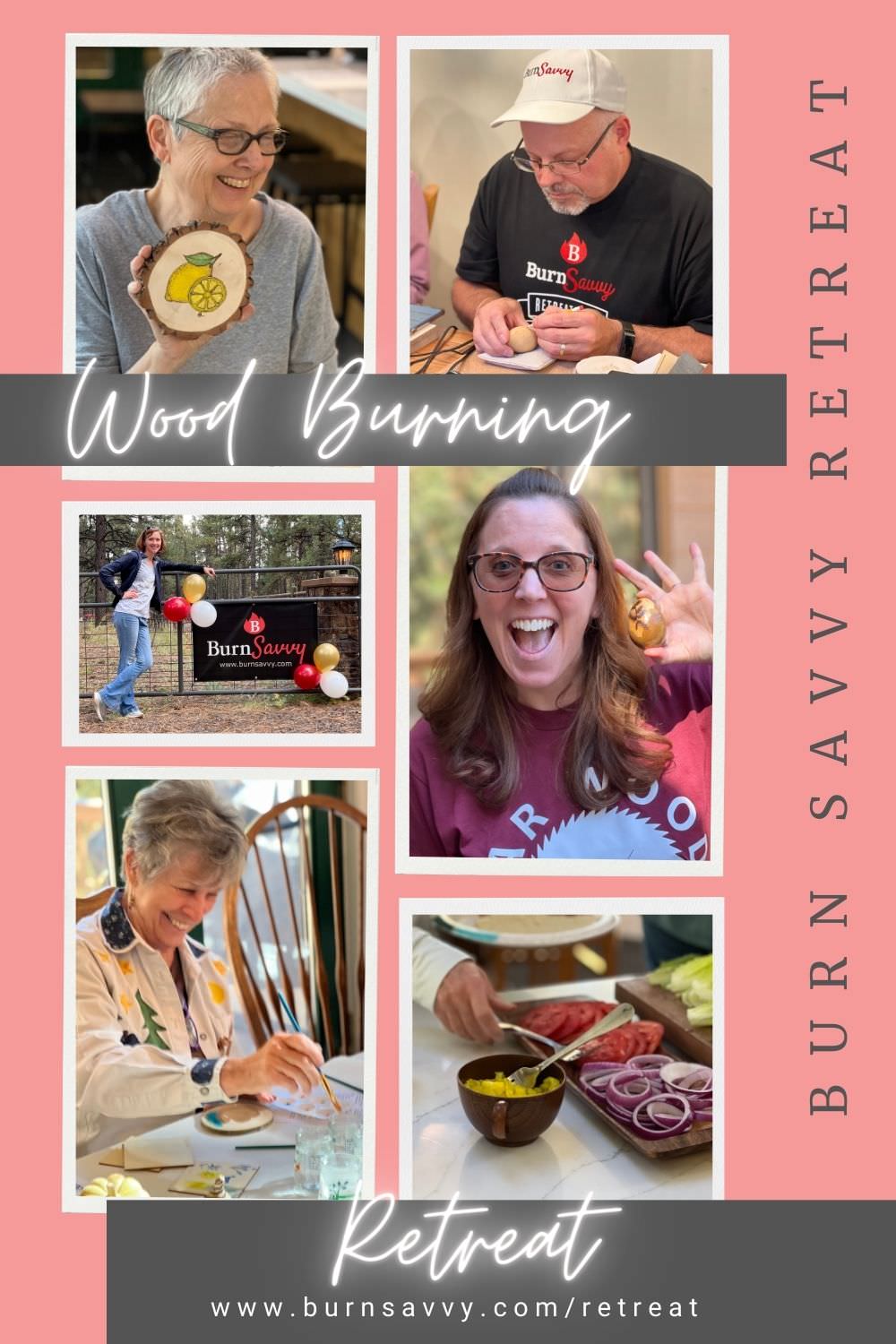 ---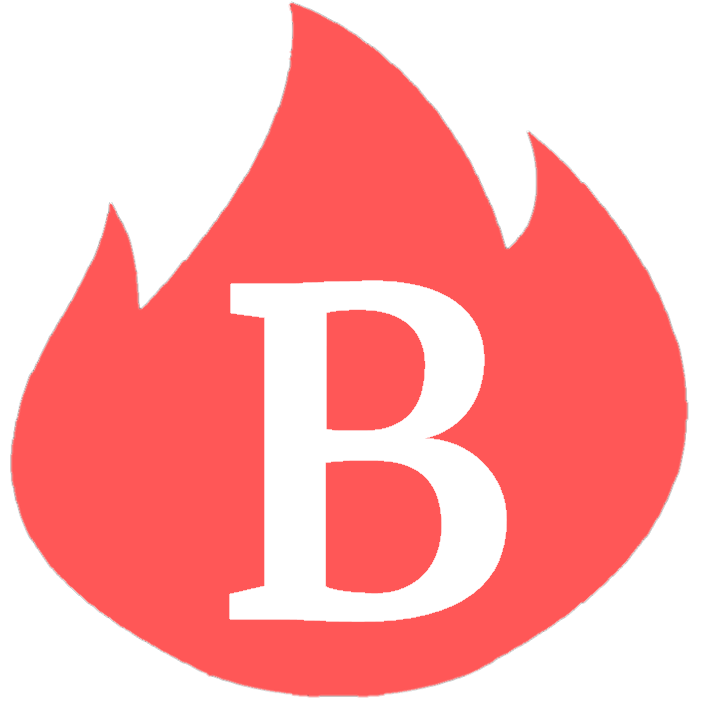 [

  Burn

Savvy 

]
---