There's not a lot of information about how to clean your pyrography tool.
Most of us just do the best we can... and wind up wearing our tools out sooner than they should.
OR we don't clean them at all!
But dirty tools get frustrating pretty quickly.


Check out this dandy video on how to clean your pyrography tool

Disclosure: This post contains affiliate links. If you buy something through them they throw me a small commission at no extra cost to you. I believe in these products so you know you are in good hands. ;) Plus it helps me to keep making *awesome* free content for you (learn more). I appreciate your support!

Why bother cleaning my tools?

Carbon build up is annoying.
If you don't already know, carbon is the black stuff that shows up on your tips while you burn.
The heat has a hard time breaking through it, forcing you to turn up your machine hotter and hotter and hotter to get the same burn.
As carbon buildup breaks off of your tip it also leaves a mess all over your artwork - marking things up when you try to wipe it off.
Ugh.

But if you clean your tool, you'll be back in burning business fast.
Best Methods for Cleaning Your Pyrography Tool

Solid-point burners, tips and points are more sturdy than wire-nibs, and sometimes that means they can take harsher abuse.
But a hot tip is still soft and malleable.
In other words, you still have to be careful.
A leather strop has one side with a rougher leather (the inside of the skin) and the other side has a smooth leather strip (the outside of the skin).

Aluminum oxide is the grit that scrubs the carbon off. 
I recommend the powdered aluminum oxide (the bottle in the picture above) over the wax polishing compound (the green block in the picture). The wax leaves a little gummy residue that smells when you first get your tip hot. But the powder doesn't.

How To Use It:
Put a little powder (or rub the wax) on the rough side of your leather strop. Then rub the cool tip on the strop until it comes clean. Turn the leather strop over to the smooth side and rub again to get a *sparkly* finish on those tips.
Where To Buy:
Honing Cleaning Cloth
Recommended for:
+ All Tip Styles

I get a decent cleaning with a honing cloth. It doesn't leave as fabulous of a polished shine as a leather strop, but it's cheaper and still works.
It's very similar to fine sand paper in the way it cleans, only it doesn't leave those awful scrape marks and damage on your tips.
How To Use It:

Gently rub the dirty parts of the tip on your honing cloth until it shines like new... or close enough. ;)
Okay Methods for Cleaning Your Pyrography Tool
Some pyrographers really love these cleaning methods.
I don't.
But at least these shouldn't hurt your pyrography tools.

Razor Blade or Knife
Can be used for:
+ flat or straight Edge Tip Styles
- not good for Rounded Tips

The Razertip brand has a cleaning tool with knives attached and a lot of their customers like them.
But these tools don't really work on rounded tips like ball points or flow tips.
How To Use It:
Gently scrape your tip across the edge of the blade until the carbon comes off.
It's best if you can secure the razor blade or knife to something sturdy like a 2x4 piece of wood. Then you can scrape the carbon off easily without having to stabilize both the blade and your tip
Too rough for those sleeker wire-nibs, but it does the job for your solid-point tips.
Just make sure it's a soft brass bristled brush, not something harsh and tough like a stainless-steel brush.

How To Use It:
Simply rub those solid-point tips along the brass bristles until the carbon is gone.
Where To Buy: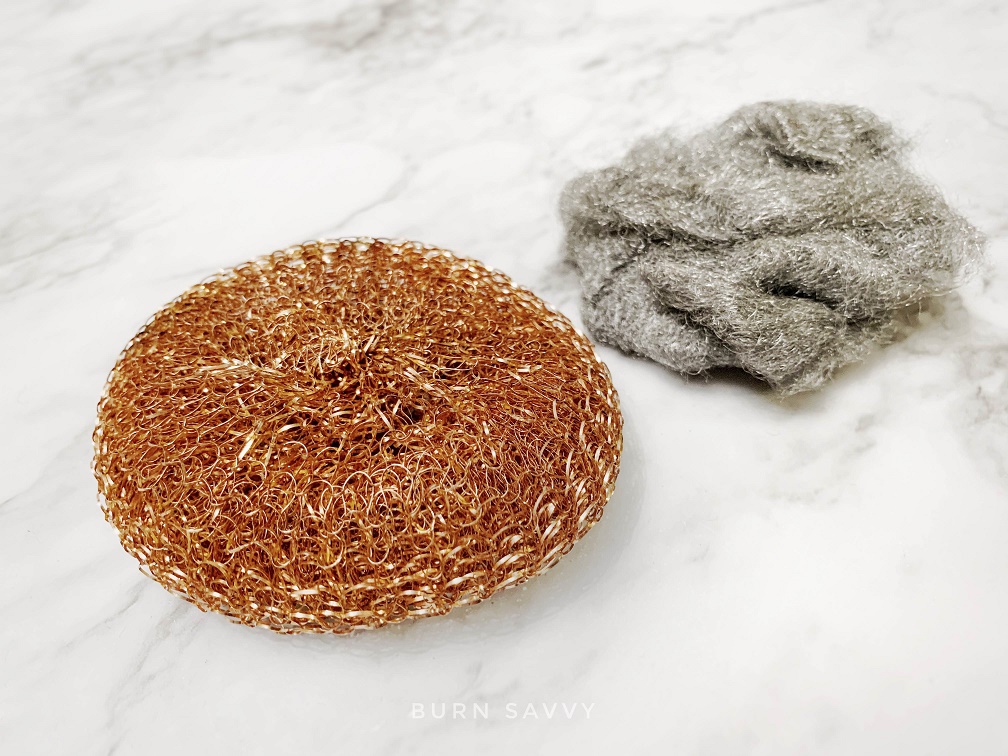 Steel Wool or Scouring Pad

Can be used for:
+ All solid-Point Tip Styles

This is another great (and cheap) solution to clean your solid-point tips. The scouring pads are a bit too rough for the wire-nibs in my opinion.
I take these to my woodburning workshops so my students can quickly and easily scrub that pesky carbon off their solid-point tips.
How To Use It:
Just rub the tip on the pad until the carbon comes off. For rounded tips, I like to twist the tip for a better clean.
Where To Buy: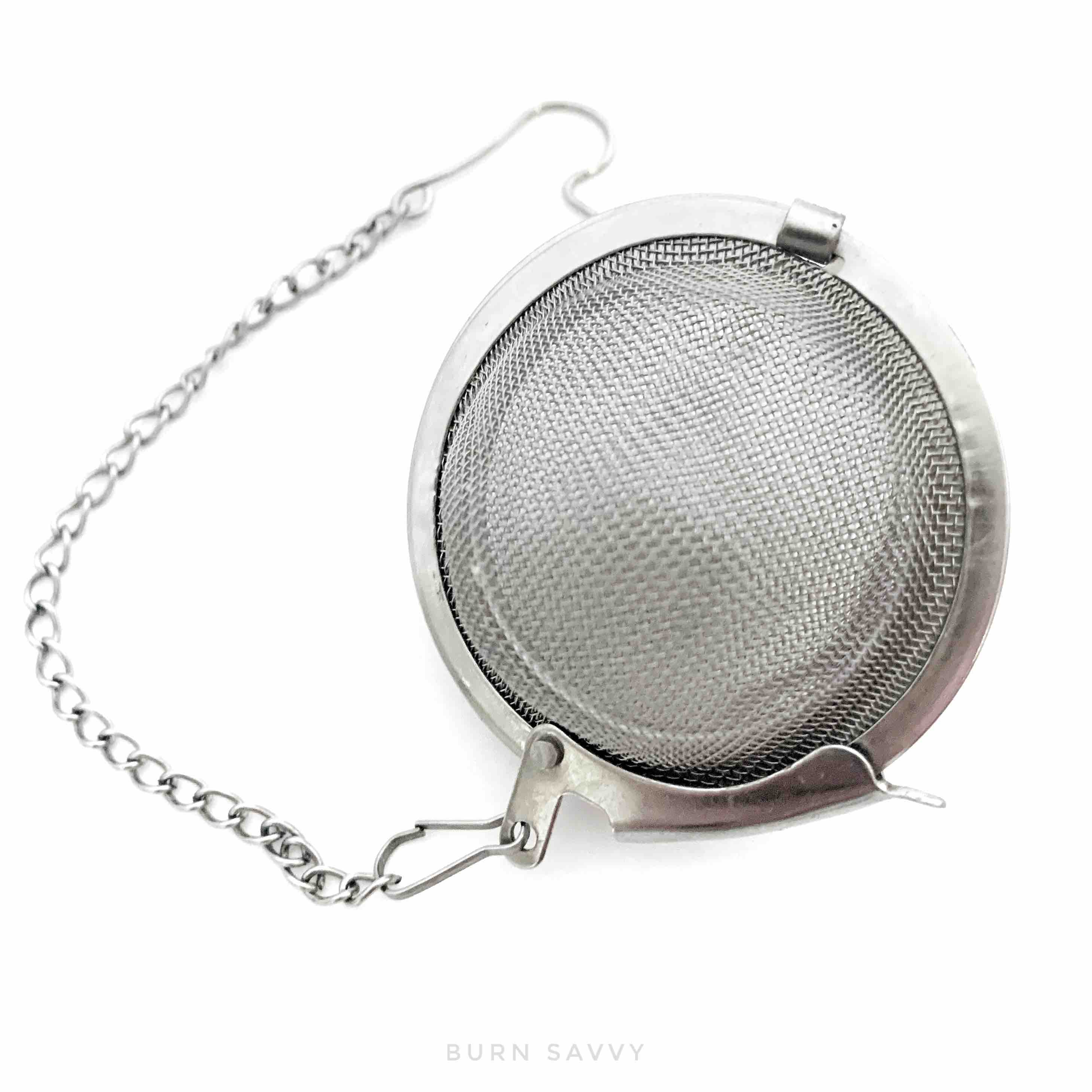 Tea Strainer

Can be used for:
+ All Tip Styles

Some people swear by the tea strainer. I've heard of other pyrographers damaging their tools on it.
Personally, I hate it. I rarely get a really good cleaning. But it does remove large carbon chunks and I do use it on occasion.
If you're going to use it, the best kind is actually NOT the coarser strainers but the finer one. I'll give you a link to where you can find the better kind of tea strainer below.
How To Use It:
Gently rub the dirty tip on the tea strainer mesh until the carbon comes off.
Where To Buy:
Baaaaad Cleaning Methods
Don't use these.

These are the ones that will wear your tips out fast and destroy your tools.

You might be thinking, "I'm gonna use these because I have them on hand."
I get it.
You're gonna do what you're gonna do.

Just know that if you DO use these methods - yes it can clean your tips - but it will wear them out faster and could easily ruin them.

Sandpaper & Sanding BlOcks

I admit. When I started, I was guilty of using sandpaper to clean my pyrography tool.
And the tips got clean fairly fast.
But they also got scratched - more so on my expensive wire-nibs.

If you're going to use it, please don't use some heavy 80 grit nastiness! Use something fine, like 220 grit minimum or even 1500+ grit.
But let's be clear.
I do not recommend sand paper.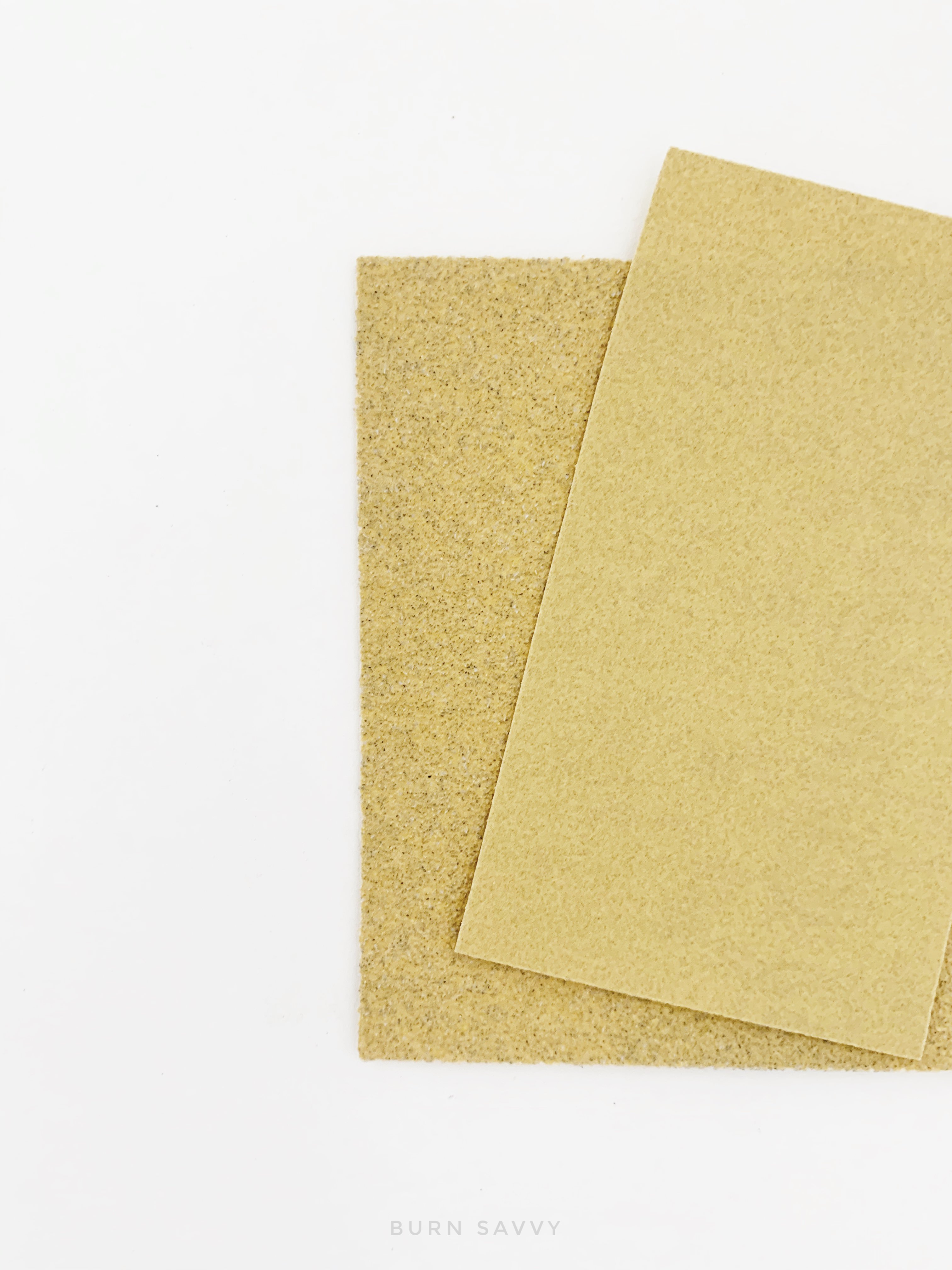 Emery Boards & Files

These are worse than sandpaper.
The only times I used a nail file was when I was burning over finished wood and had to scrape giant globs of finish off my tips...
...totally unsafe to be using a hot tool on finished wood.
Stinks to high heaven.Toxic as purgatory. Don't do that.

And don't use emery boards or nail files on your pyrography tool. Ever.

Wet Sponge
Rust. Yikes. No good.
People use it because that's one common method for cleaning a soldering iron (which is pretty much what a solid-tip woodburner is). But it's really not good for the metal.
Plus it doesn't do as good of a job at getting that stubborn carbon off as a lot of other techniques.