WoodBurning Tips:
The Tapered Point BEst Uses

Of all the solid-point woodburning tips that come with most kits, the tapered point is my least favorite.

It doesn't have very many great uses for art.
And those uses can totally be covered by other tips - better tips if you ask me.
But for the sake of science (and those curious souls like mine) I'm going to tell you all about it anyway.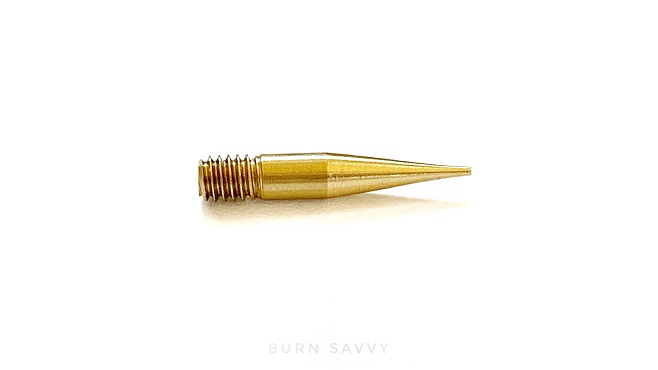 ⇢ Want a Woodburning Project Delivered to Your Door Every Month?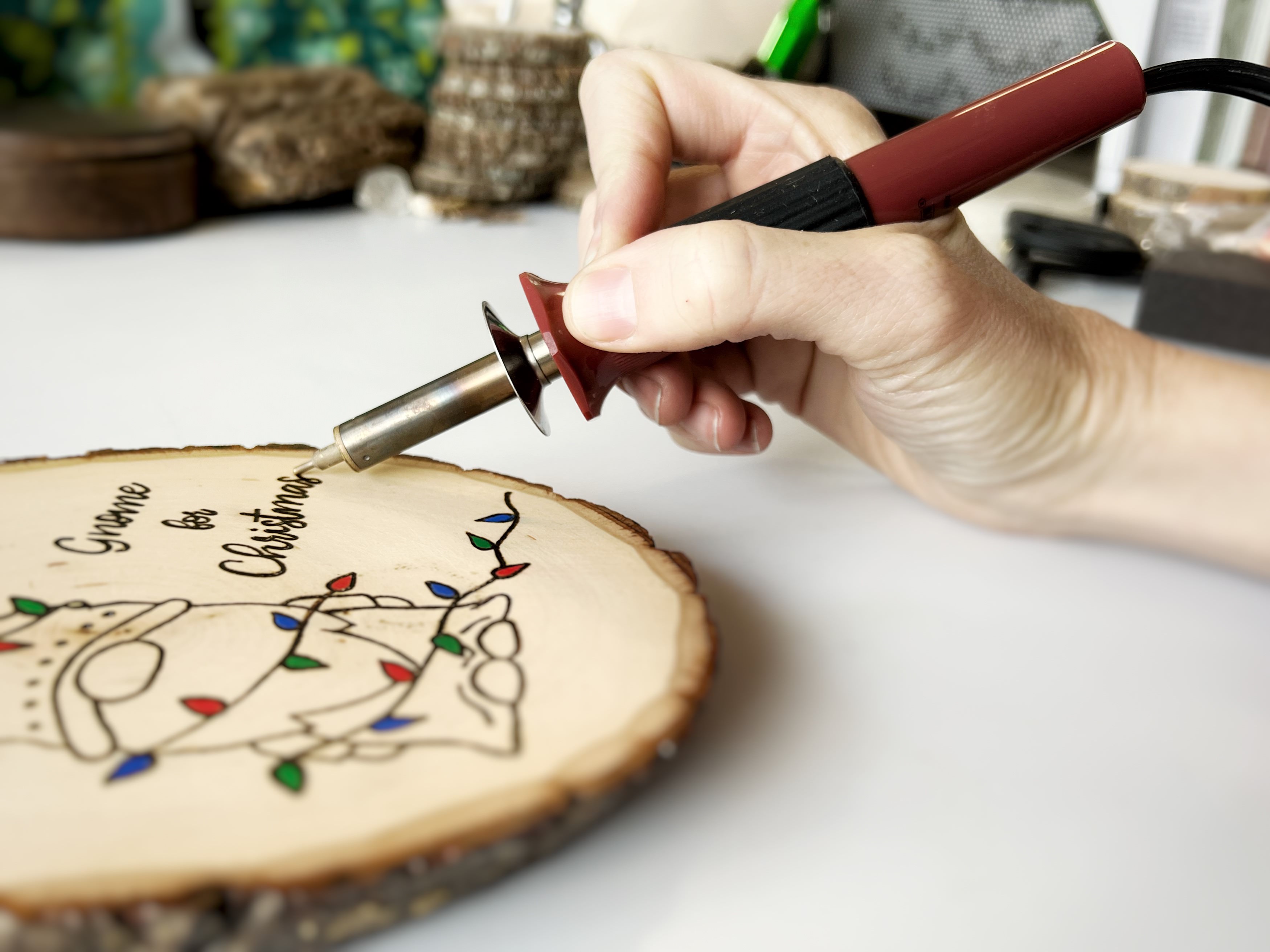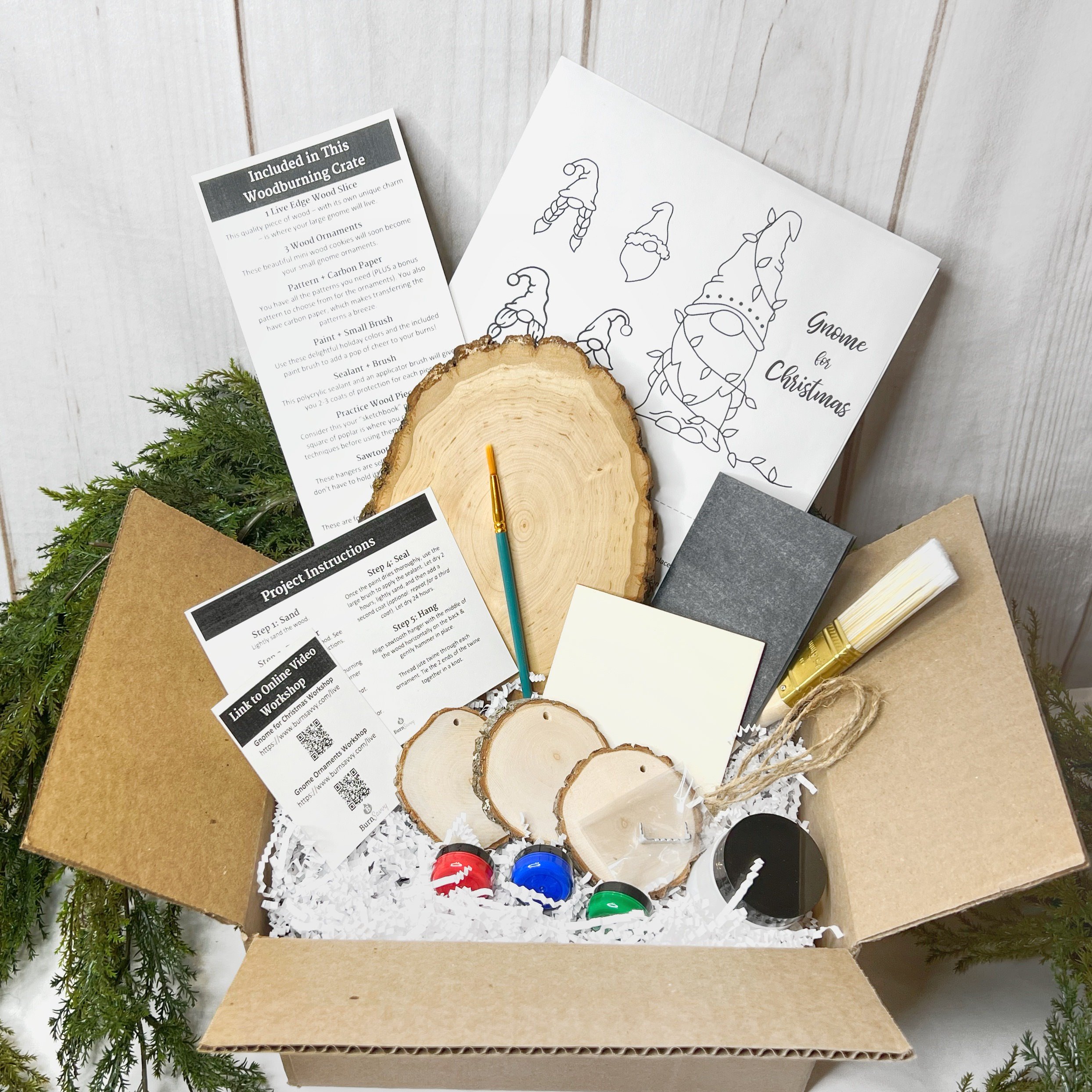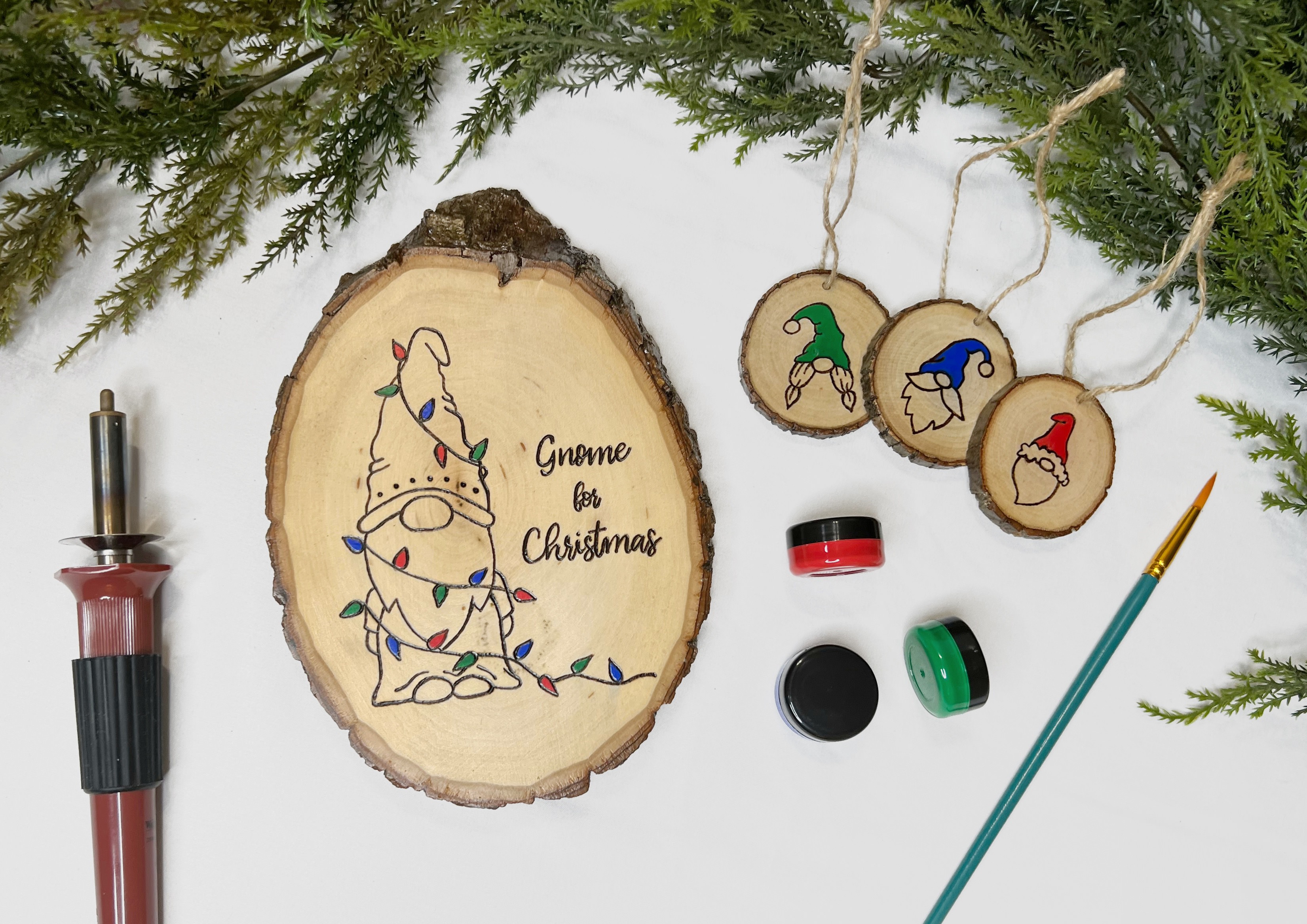 ⇣ Get high quality, curated woodburning projects worthy of a professional pyrographer, easy enough for a beginner! Each month is a different project to allow you to grow your techniques, expand your experience, and try new things that otherwise you might not have ever tried.
Perfect for gifting to friends, family, and even yourself. ;)
Go ahead. You're worth it.
⇣⇣⇣
P.S. I made a board for You
I took the top 10 most common tips that come in a solid-point woodburning kit and tried all the pyrography techniques on them.
It shows what pyrography techniques are easy to burn, what took some work, and what techniques are hard for each tip.

Download your FREE copy when you sign up!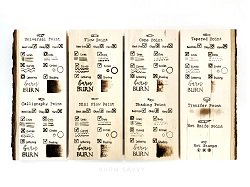 Tapered Point Features

It's like a really loooooong cone tip with a really sharp point.
Looks more like it's ready to stab the wood... which is pretty much it's best use.

What I love about the Tapered Point
Not much.
There are a couple things it does really well....
Both curved and straight lines
Tiny little fine lines are pretty much it's only forte when it comes to actual artwork. But since it's longer than the cone point - which by the way also does tiny lines just fine - it's slightly harder to control.
Remember, the closer your hand can get to the tip, the more control you have.

I figure if you're going to have to work at it anyway, you might as well just use the shading point. It has a nice fine point you can use to get the same effect plus it has a truckload of other helpful uses.
I'm sure you could make cribbage board holes with this tip if you wanted.
If you have a thin piece of wood - say less than an inch - you could also burn a hole clean through it (that was fun to try). So for things like ornaments, you wouldn't need a drill.
And if it doesn't burn and evenly sized hole all the way through your wood piece, you could turn the wood over and burn from the other direction.
Personally though, I'll just stick with a drill thanks.
What's Okay About it
Again, control. Making a clean circle takes a steady hand, so you want to use a tip that is fairly easy to maneuver.
This tip is okay, but it's hard to control over larger areas.

The cone point or the shading point would be better.
Same problem with lettering. It works for the tiny stuff, but the larger the letters or the design the harder to control the tip.
Since the point is so thin at the end, it catches easily on the wood grain too. My testing board was  basswood, which has a nice even grain. And the tapered point was catching pretty often. It's like it WANTS to dig into the wood.

And being so thin, it's no good for block or print lettering.
What's Hard: Choose a Different Tip

Just look at the picture ⇣down there⇣. Don't waste your time trying to shade when I already did that for you.
Quick View:
Tapered Point Uses

Best Uses
Lines - curved or straight
Creating deep holes

Okay Uses - Not the Easiest
Hard Uses - choose a different tip
Burn Savvy Home > Woodburning Tips & Their Uses > Tapered Point

Want to seriously up your pyrography game?

I'm spilling my pyrography secrets. Don't miss out on...
Your FREE guide to woodburning tips & their uses

Helpful tips, hacks & articles
First dibs on upcoming courses

Notice of retreats, challenges, and other pyrography events

and so much more coming!
So go ahead. Subscribe. Consume. Enjoy.
You deserve it.
---
⇣ Enjoying your FREE pyrography tips & techinques? ⇣

Are you enjoying the free pyrography tips & techniques I share with you here and on YouTube?
I am delighted to help you out!
If you are a giving person - and I believe you are - there are a few really simple ways that you can give back.

Things like...

Watch my YouTube videos (that's totally FREE for you)


Buy your woodburning products through my affiliate links which throw me a dime or two at no extra cost to you (read about affiliate links here).


Take the pyrography courses that I've poured my heart and soul into helping you burn like a boss!


Join in the woodburning retreats - that's really like giving back to yourself, actually. ;)

I truly appreciate givers like you who are willing to help me - your fellow pyro - to keep making free, delightful woodburning content for you and pyros like you.
Thanks for always being so supportive of me!

Burn Savvy Home > Woodburning Tips > Universal Point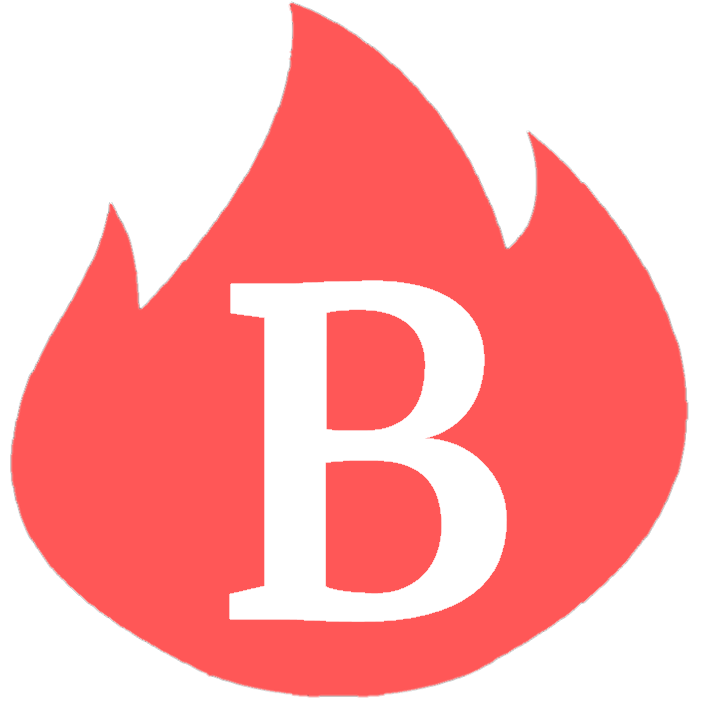 [

  Burn

Savvy 

]
---